Internet abuzz after PEGIDA founder shared info on Berlin attacker before German police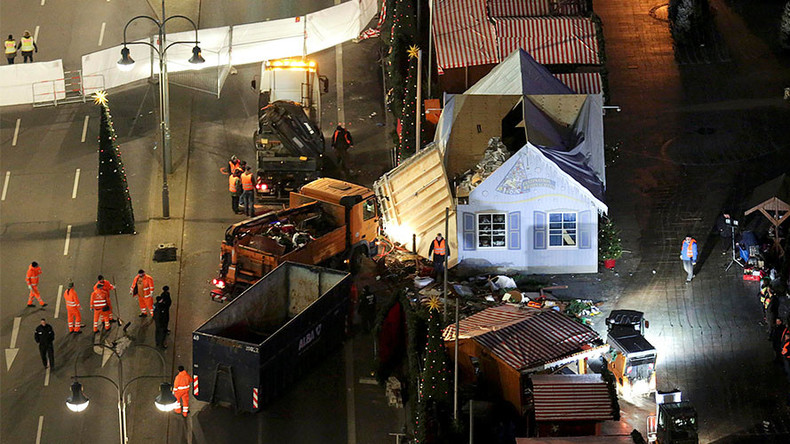 PEGIDA founder Lutz Bachmann, who tweeted that the primary suspect in the Berlin Christmas market attack was "a Tunisian Muslim" a day ahead of authorities, triggered speculation about his sources of information and landed police into hot water for lagging behind.
Bachman posted the tweet at 10:16pm local time on December 19, citing "internal police information" he confirmed with Germany's Public Prosecutor General. A truck ploughed into the Berlin Christmas market crowd, killing 12 people and injuring 48 more, shortly after 8:00pm on Monday.
On Tuesday, police identified the suspect they had detained as a 23-year old Pakistani asylum-seeker. Before that no information other than that "the situation is unclear" had been available. The detainee denied he was involved in the attack and was released later the same day.
Police reported that they found a young Tunisian man's identity documents in the cabin of the truck used in the attack only on Wednesday afternoon.
After that Bachman produced a second tweet that said, "so my info 1h after the attack was right? Police are looking for a Tunisian man."
Later, a European arrest warrant for the suspect, of Tunisian descent, was issued by the Federal Prosecutor.
The situation raised questions about how Bachman managed to get ahead of authorities as well as what took so long for police to start searching for the right suspect.
In response to a storm of questions regarding his informants, Bachman replied on Twitter that the only thing one needs in such cases is "the right connections and a whistleblower that is sick of the lies."
However, later, Bachman backtracked tweeting, "here is the truth, I only used my crystal ball, no informants!"
German police reportedly denied all the allegations that a source from law enforcement could have leaked information to Bachman.
"This clearly, one hundred percent impossible. Berlin police came across the ID documents indicating that the perpetrator was a Tunisian on Tuesday afternoon," police spokesperson Winfrid Wenzel said, according to FAZ.
The attacker was identified as 24-year-old Tunisian Anis Amri, who had been tracked by German authorities for months before surveillance operations were called off in September.
Amri arrived in Germany in 2015 at the peak of the refugee influx after he served a term in Italy, Ralf Jaeger, the interior minister of North Rhine-Westphalia said, according to AP.
In July 2016 his refugee application was declined. However, he was not immediately deported right as he did not have any valid identity papers. In August, migration authorities made an effort to help Amri secure a replacement passport.
Amri was also being tracked by US intelligence, according to the New York Times. He had reportedly searched for information on making explosive devices and had communicated with IS at least once, via the Telegram messenger app, said an American security official who spoke on condition of anonymity. He was also on a US no-fly list.