Russia tested over 160 new weapons in Syrian operation – defense minister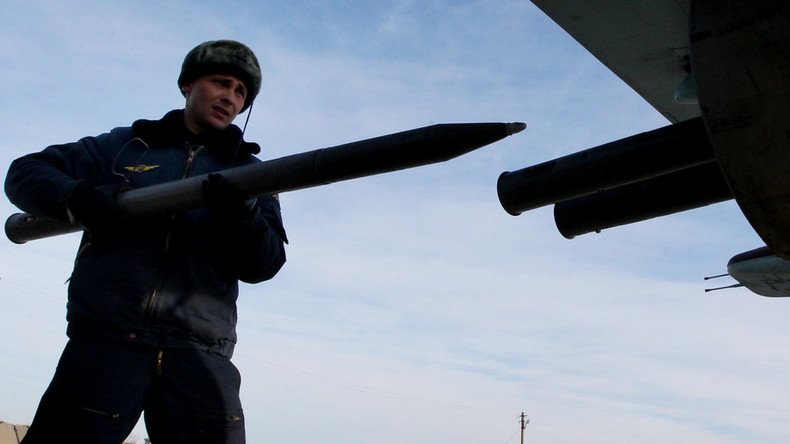 While the primary goal of Russia's military operation in Syria is to prevent the disintegration of the country, it has also provided a chance to field-test 162 advanced Russian weapons, Russia's defense minister reported.
"During the operation in Syria, 162 advanced and upgraded weapons have been tested in combat. They have proven to be highly efficient," Sergey Shoigu told a Thursday meeting of senior Russian officials. The session, chaired by President Vladimir Putin, was focused on the annual report of the minister.
Among the systems tested in Syria were Su-30SM and Su-34 fighter jets, Mi-28N and Ka-52 helicopters, and Kalibr cruise missiles, as well as other arms. According to Shoigu, 10 of the 162 weapons tested revealed flaws that had not been identified on test ranges, prompting the ministry to stop buying them and ask the developers to fix them.
Shoigu said Russia's involvement has "prevented the disintegration of the Syrian state, broken the chain of 'color revolutions' in the Middle East and North Africa, and launched a process for reaching a political settlement and reconciliation between warring parties."
So far, 18,800 sorties and 71,000 airstrikes have been carried out by the Russian Air Force as part of the operation, the minister said. Russian warplanes have hit hundreds of militant training camps, arms workshops, military vehicles, and artillery systems.
NATO watching & preparing
This year has also seen NATO members sharply step up their surveillance of Russian military assets, Shoigu reported.
"The intensity of naval surveillance near our territorial waters has increased by 50 percent. We are monitoring the situation and preventing any attempts to violate our naval borders," the minister said.
He added there is a similar situation in the air, where NATO flights have tripled over the past decade, necessitating an increase in the deployment of Russian fighter jets to shadow the NATO planes.
The alliance has also carried out twice as many military exercises, "most of which are targeting Russia," according to Shoigu. As an example, he described British Army war games that used old Soviet tanks and civilian contractors dressed in Russian uniforms.
Countering US nukes & Tomahawks
The US is upgrading its nuclear arsenal in Europe, the Russian minister said, adding that Russia "cannot leave such actions without a response."
He said that Russia has taken measures to counter Tomahawk cruise missiles that could be launched from anti-missile sites in Europe that use the same launcher systems as US warships. Shoigu said that 150 to 300 missiles could be secretly deployed that would be capable of hitting Russian territory within 10 minutes.
While he did not explain exactly how this threat was to be countered, Russian defense officials have previously said that Russia has no choice but to target the anti-missile sites with its own weapons and be prepared to destroy them in the case of an armed conflict.
Procurement plans
Shoigu went on to describe the Defense Ministry's procurement plans for next year. Among the weapons Russia plans to deploy in 2017 are four new batteries of mobile Yars ICBMs and five strategic bombers.
Russia is also planning to launch a new satellite that will become part of the country's early missile warning system, which will also include powerful long-range radar stations. The old Soviet satellites used for this purpose have long needed replacing, and the process started in late 2015.
The Russian military will also continue to expand its drone fleet, which has grown more than tenfold over five years and currently includes 2,000, according to Shoigu.
READ MORE: Yars & Topol-M intercontinental ballistic missiles rumble in massive Russian drill
Meanwhile Putin said that, while Russia's armed forces are fully capable of deterring any potential aggressor, this is not an excuse to be idle.
"If we allow ourselves to relax, even for a minute, and allow a single significant failure in the modernization of our Army and Navy, or the training of our troops, the situation may change very rapidly, considering how fast events happen in the world," the Russian president warned.
You can share this story on social media: