2.5 tons of fake plastic rice seized in Nigeria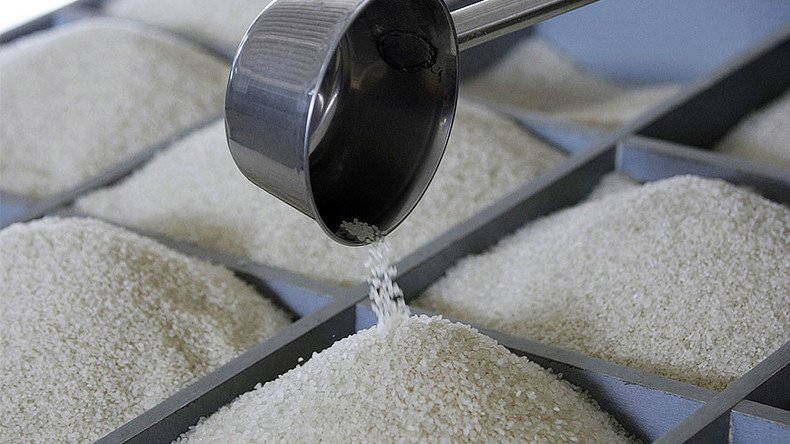 Amid skyrocketing food prices and inflation ahead of Christmas, Nigerian authorities have intercepted a shipment of some 2.5 tons of fake rice, supposedly from China. Health warnings have been issued and an arrest made.
The 102 bags of fake rice, weighing 25kg (a little over 50lb) each and labeled 'Best Tomato Rice', are thought by customs officers to have been smuggled in through the port in Lagos, according to AFP. The port city is the country's main commercial hub.
The connection to China is being suggested after 'rice' made from plastic pellets was discovered at the same port last year.
A suspect was arrested Wednesday, and warnings were immediately issued to steer clear of the rice, and definitely not cook it. It was upon cooking the rice that customs officials saw its sticky constitution, realizing it was not safe.
"Only God knows what would have happened if people consumed it," customs controller Mohammed Haruna told local media, as cited by AFP.
Being Nigeria's most popular staple food, rice is in massive demand, especially with Christmas around the corner and owing to rising inflation. But rice imports are banned in Nigeria – a tactic to boost local production. The country has just experienced its 13th straight month of increasing inflation, and food prices are said to be the driver.
Authorities say the rice was intended for sale at the numerous Christmas-themed events and festivities around the country.
A 25kg bag, like the ones confiscated, is estimated to be worth 20,000 naira (US$63) – twice what they were last December.
Further analysis of the rice is now being carried out at the National Agency for Food and Drug Administration and Control.
You can share this story on social media: