UN probe into Aleppo aid convoy attack fails to identify perpetrator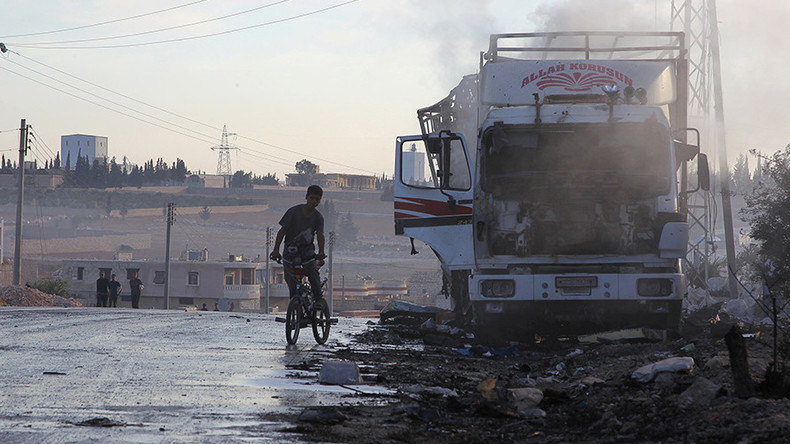 A recent UN probe into an attack on a UN-Syrian Arab Red Crescent aid convoy near Aleppo has failed to name the responsible parties. Experts concluded that the humanitarian delivery was destroyed by an "air attack."
"The Board found that, while the incident was caused by an air attack, it was not possible to identify the perpetrator or perpetrators," the report by the Board of Inquiry stated on Wednesday.
For months, media and western government officials said the Syrian or Russian air forces had been responsible for striking and destroying 17 out of the caravan's 31 trucks in Urm al-Kubra. At least 10 people were killed in that incident, and over 20 others injured. Humanitarian aid worth almost $650,000 was lost as a result of the attack.
Russia has always denied the allegations saying that intelligence data has not matched circulated rumors of Russian involvement. Damascus has also denied involvement.
While failing to directly name responsible parties, the UN team did, however, find that multiple types of munitions deployed from more than "one aircraft and aircraft type" struck the convoy.
"The munitions used included non-precision unitary bombs and/or smaller blast-incendiary air-to-ground weapons, which could have been missiles, rockets or sub-munition bomblets," the board said.
According to the summary, both the international coalition forces led by Washington, as well as the Russian and Syrian air forces, had the capabilities to carry out such an attack.
Stating that Syria's armed opposition groups did not have the capability to strike the convoy, the panel also noted that a US-led coalition strike was "highly unlikely" as "no party had alleged the involvement of International Coalition Forces aircraft."
READ MORE: US coalition Predator drone spotted at time & place of Syria aid convoy attack – Russian military
The panel alleged that the strike had "most likely" been carried out by pro-government forces. Yet the summary of the UN report released by Secretary-General Ban Ki-moon found that the board "did not have evidence to conclude that the incident was a deliberate attack on a humanitarian target."