Horrified witnesses capture shocking aftermath of Berlin truck attack (DISTURBING VIDEOS)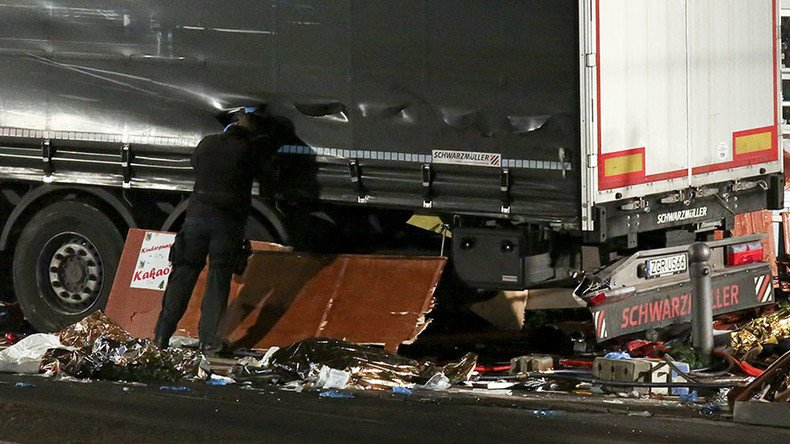 The unique atmosphere of Berlin's Christmas market has been abruptly destroyed when a massive industrial truck unexpectedly plowed through the crowd leaving at least 12 dead. Eyewitnesses captured the aftermath of the horrific incident.
READ MORE: 12 dead, many injured as truck plows into Christmas market in Berlin in likely terrorist attack
Children laughter and picture perfect family moments evaporated in crisp winter air within seconds after a lorry smashed into the crowd in the center of the German capital at about 8pm local time.
Driving from the direction of Budapester Strasse, the truck sliced through small stands that sold traditional German delicacies and folk craft. Eyewitnesses said that the truck was traveling at a speed of about 45 mph when it smashed into the crowd.
Coming to a halt by a Christmas tree in front of the Kaiser Wilhelm church, the truck, apparently belonging to as Polish construction company, left a trail of dead bodies.
Screams of those injured overshadowed more than 100 beautifully decorated market stands. Wooden boards were scattered on the ground as the scene looked somewhat reminiscent of an apocalyptic footage from a Hollywood horror movie.
Disturbing videos of the aftermath incident that left at least 12 people dead and another 48 injured showed widespread destruction and collaborative effort to care for those injured.
READ MORE: 'Terror has no borders': Eyewitnesses of Berlin market carnage relay horrifying details to RT
You can share this story on social media: