'He did much to fight terrorism': Putin, diplomats praise assassinated Russian ambassador Karlov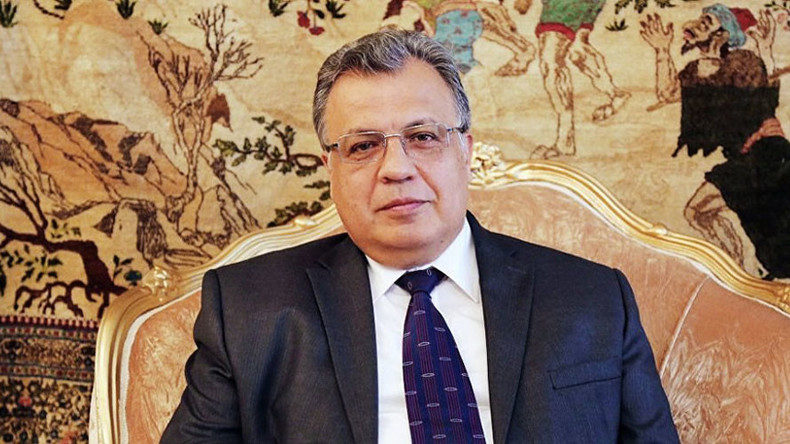 Russian diplomat Andrey Karlov, 62, was fatally shot in the Turkish capital, Ankara, on Monday. His colleagues called it a "tragic day in the history of Russian diplomacy."
"He was killed while performing his duties," President Vladimir Putin said in a statement on the ambassador's murder. Saying that he knew Karlov personally, Putin called him a "kind man."
The president also praised Karlov's professionalism, saying he "was a brilliant diplomat, widely respected in the country where he was posted... in good standing with both the government of Turkey and other political groups in that country."
READ MORE: Putin: Russian ambassador's murder provocation aimed at undermining Syria peace process
Announcing the death of the head of the Russian diplomatic mission in Turkey, Russian Foreign Ministry spokeswoman Maria Zakharova said Karlov was "an outstanding Russian diplomat."
Zakharova said that Karlov's murder was "a terrorist act," adding that the ambassador himself "had done a lot to fight terrorism."
"His memory will remain in our hearts forever," she said, adding that Moscow will make sure those behind the murder "will be punished."
The ambassador to Turkey was more concerned with the safety and well-being of his fellow Russians than his own, said his colleague and friend Aleksandr Lukashevich, who is Russia's representative to the OSCE (Organization for Security and Cooperation in Europe).
"Of course, there were times he was worried when we spoke on the phone," he told Russia's Rossiya-24 TV channel, but added that the diplomat "was especially concerned with the safety of Russian citizens, especially because there is a big flow of Russian tourists [into Turkey]."
Karlov's "personal safety" was never the topic of their discussions, Lukashevich said.
"He lost his life on duty in the line of fire," the Russian Foreign Ministry's plenipotentiary for human rights, Konstantin Dolgov, told RT. Saying that the ambassador to Turkey "was a very talented and experienced diplomat," he added that Karlov was not only his colleague, but also a friend.
"It's a very big loss for all of us," Dolgov said. "It's difficult to speak and to realize that Andrey Karlov is no longer with us," he added, saying that "it was a real honor to serve alongside this man."
"I am proud to have been one of his colleagues and I [express] my heartfelt condolences to his family, and his team," the official told RT. Karlov is survived by his wife and an adult son.
Andrey Gennadievich Karlov had a long and distinguished career representing both Russia and the Soviet Union in the international arena.
Born February 4, 1954, in Moscow, Karlov studied at the Moscow State Institute of International Relations (MGIMO), from which he graduated in 1976 shortly before taking up work at the Foreign Ministry. Between 1979 and 1991 Karlov worked at the Soviet embassy in Pyongyang, North Korea. In 2001, he was appointed as a fully-authorized ambassador to the Democratic People's Republic of Korea, a post he held until 2006.
On July 12, 2013, Karlov was appointed by a presidential decree to the role of ambassador to Turkey, assuming his new position at the Russian embassy in Ankara. Over the course of his duties, Karlov oversaw a difficult period in Russian-Turkish relations, which were severely strained by the Turkish downing of a Russian jet over Syria in 2015.
President Putin has tasked officials with awarding the assassinated ambassador posthumously and initiating a memorial for him.
You can share this story on social media: