Over 400k refugees in Germany can't find jobs – official report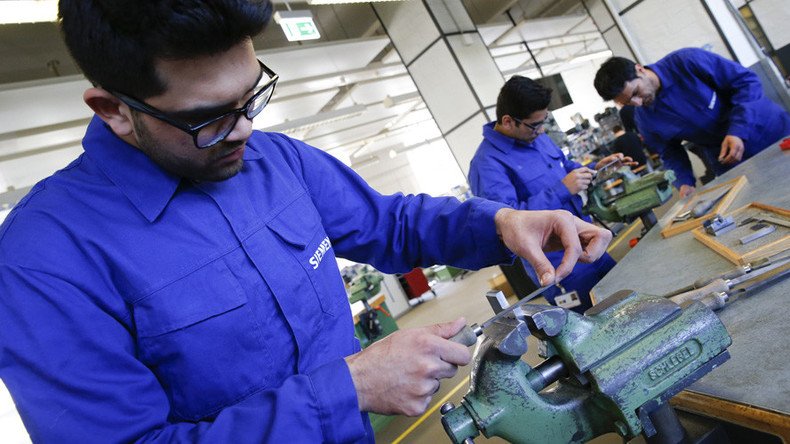 More than 400,000 refugees are still without jobs in Germany while less than 10 percent are employed, the government's Institute for Labour Research (IAB) found. Hopes that most of refugees will get well paid jobs are an "illusion," the IAB chief warned.
Only a small number of Germany's 34,000 asylum-seekers managed to find a regular job between December 2015 to November 2016, according to the data released by IAB on Monday, as cited by Der Spiegel.
However, almost a quarter of those who have a job (22 percent) have signed only a temporary contract, the report found. Another 20 percent perform services without a specified contract term. On the other hand, 406,000 refugees in Germany have been registered at employment centers as job-seekers, while nearly 160,000 are registered as unemployed.
"If we manage to employ 50 percent [of asylum-seekers] over a five-year period, it will be a real success," Joachim Moeller, the head of Nuremberg IAB, said. "We should invest in the integration process to achieve that," he noted, adding that the integration of refugees into the German labor market is not likely to speed up.
Moeller warned that it is nearly impossible to find well paid employment for the vast number of refugees.
"[It's] an illusion to believe that we will have a large number of the refugees in our well-paid industrial workplaces, such as the automobile industry," he said.
IAB figures also show that a plan proposed by German Labour Minister Andrea Nahles to create 100,000 so-called 1 Euro Jobs for refugees, is lagging behind the envisioned goals. According to the plan, announced in September, refugees should get 1 Euro an hour for their work, seen as a first step into the labor market. Yet IAB says that over the last four months "only 5,000 [such] jobs were created."
At the same time, an influx of refugees has created between 50,000 to 60,000 new jobs for Germans due to an increased demand for teachers and social workers, Moeller said. The demand is expected to remain for at least several years.
Last week, a study by the Kiel Institute for the World Economy suggested that, by the end of 2018, more than 400,000 refugees in Germany will be employed, Bild newspaper reported. The study was based on a calculation that each month 2 percent of refugees find a job while at the same time 3 percent of them are leaving Germany.
In February, Nahles announced that refugees failing to integrate into German society would have their welfare payments reduced. Integration means taking up German language courses; joining day care centers, schools, neighborhoods; and finding a job.
"Whoever comes here to seek refuge and begin a new life must adhere to our rules and values," the minister wrote for an op-ed at the FAZ newspaper. Almost 1.2 million applied for asylum in Germany in 2015 and in the first eleven months of 2016, according to the Federal Interior Ministry.
You can share this story on social media: