'Bye-bye America': Duterte wants US troops banned from Philippines unless aid is okayed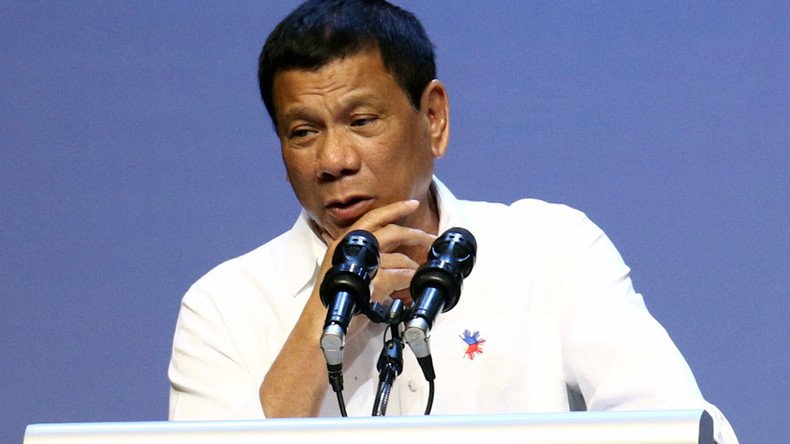 Philippines President Rodrigo Duterte has warned the US that he will scrap a pact that allows US military forces to train in the Philippines if Washington doesn't renew a large-scale aid package.
His remarks came after a US government agency, the Millennium Challenge Corporation, said that a vote on renewing aid for the Philippines has been put off "subject to a further review of concerns around rule of law and civil liberties." The agency is apparently concerned with the Duterte's war on illegal drugs.
Duterte slammed the agency, telling journalists on Saturday: "I understand that we have been stricken out of the Millennium Challenge. Well, good, I welcome it. We can survive without American money."
"But you know, America, you might also be put on notice. Prepare to leave the Philippines, prepare for the eventual repeal or the abrogation of the Visiting Forces Agreement," he added.
The Philippines leader then urged US troops to "start packing," adding, "You know, tit for tat... if you can do this, so (can) we. It ain't a one-way traffic. Bye-bye America."
In 1998, the US and the Philippines signed a pact allowing US troops to conduct joint drills on the islands, and at least two major military exercises currently take place there yearly. Prior to that, the US had maintained permanent military bases in the Philippines, but the last of them was removed 25 years ago. Since 2012, around 600 US military have been deployed in the Philippines to train troops battling Muslim extremists, but their numbers have been scaled down in recent years.
The US embassy in Manila has said that it will work with the Philippines authorities to address any concerns, AP reported.
Duterte is notorious for being outspoken. This latest remark comes just after he confessed to having killed three suspected criminals while he was mayor of Davao.
Last week, the 71-year-old president admitted that he had faked an illness to avoid seeing US President Obama at the APEC summit in Lima, Peru, in November.
Also, on a few occasions, Duterte told Obama to "go to hell" and has also called the US president a "son of b*tch."
Duterte has welcomed Donald Trump's presidential victory, however, saying, "we both like to swear."
You can share this story on social media: