Turkish nationalists storm pro-Kurdish party's HQs after deadly blast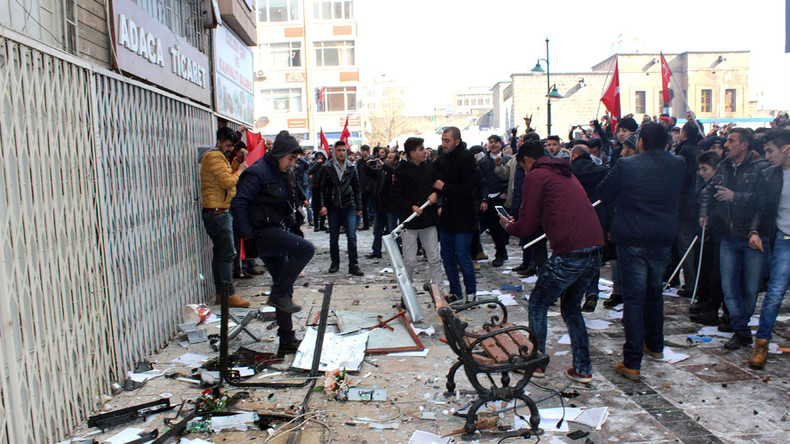 Right-wing protesters have ransacked the local headquarters of a pro-Kurdish party in several Turkish cities since a deadly attack in the city of Kayseri in central Turkey left 14 soldiers dead and over 50 people wounded on Saturday.
All of the offices that were stormed belong to the Turkish Peoples' Democratic Party (HDP). One is in the city of Kayseri, where a bus carrying off-duty soldiers was hit by an explosion yesterday, leaving 14 people dead and 56 wounded.
No group has claimed responsibility for the attack, but Interior Minister Suleyman Soylu said it was "carried out by a suicide bomber," while Turkish President Erdogan issued a statement saying the responsible party is a "separatist terrorist organization," a term he frequently uses to refer to the outlawed Kurdistan Workers Party (PKK).
In Kayseri, protesters broke into the building housing the HDP office, setting it on fire and draping a red flag with three crescent moons on it from the roof.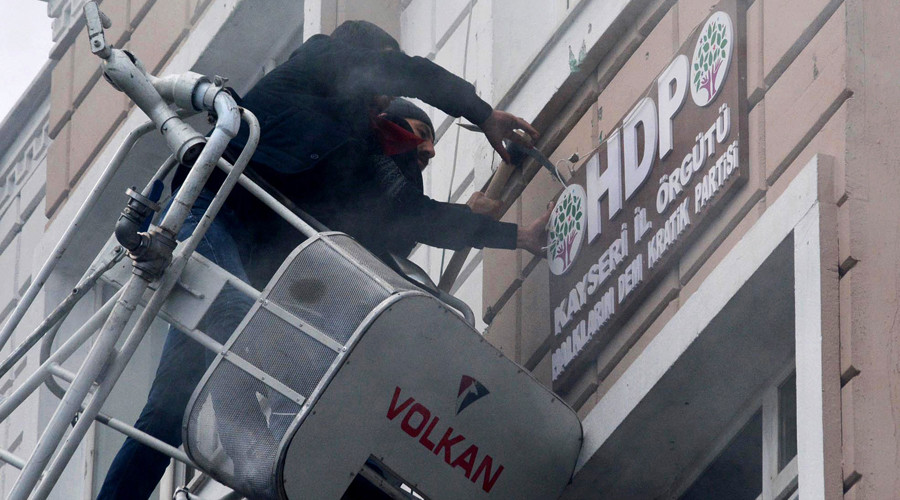 They also removed the HDP sign from the entrance. The red flag is the insignia of Turkey's right-wing Nationalist Movement Party (MHP).
The HDP said similar attacks have been carried out on its offices in seven districts in Istanbul, as well as in Erzincan, Ankara, Canakkale, and Darica, according to AFP news agency.
There have also been reports that an explosion has taken place at HDP offices in the Beylikduzu district of Istanbul.
Pictures posted on Twitter show the party's headquarters in the Kartal district of Istanbul completely trashed, with broken furniture and torn papers littering the floor.
The HDP claim that the authorities are ignoring the attacks on its offices and have warned its supporters to be cautious.
"Those who fail to take measures to prevent these attacks give an opportunity for provocations," the party said in a statement, as cited by AFP.
Although the HDP denies having ties to the PKK, Erdogan's government insists that the party is the group's political front. In recent months, Turkish authorities have arrested a number of HDP MPs on allegations that they have links to the PKK. The last wave of arrests took place in November.
The arrests have sparked protests in Turkey and among the Kurds living in Europe.
Meanwhile, an investigation into Saturday's blast is underway. According to the latest reports, seven people have been detained and five are now being sought in connection with the explosion.