Kurds take to streets of Europe after late night arrest of Turkish opposition party leaders (VIDEO)
Published time: 4 Nov, 2016 11:11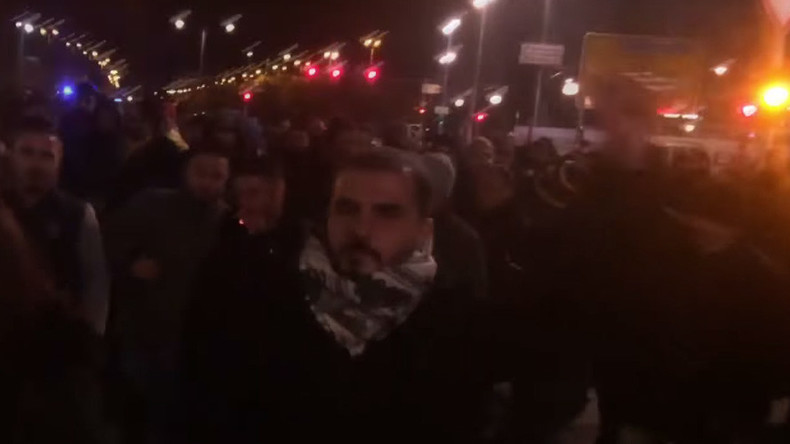 The arrests of People's Democratic Party (HDP) deputies for "failing to testify on terrorism-related causes" has sparked a furious reaction from Kurds, who poured out into the streets of European cities in protest.
READ MORE: Turkish police detain 2 leaders & 12 MPs of pro-Kurdish HDP party
Hundreds of HDP supporters swept through Berlin, blocking several streets to protest the detention of the pro-Kurdish party's two co-leaders and at least 11 of its MPs in the wee hours of Friday morning.
The activists have been shouting "fascist Erdogan" and other slogans, accusing the Turkish government of employing terrorist methods against the Kurdish population. Some of the protestors are waving HDP banners and images of the arrested politicians.
Spontaneous demonstrations have been staged all over Germany, including in major cities such as Stuttgart, Cologne, Frankfurt, and Hannover.
Germany has the large Kurdish diaspora in the world, numbering up to 800,000 people, and German cities have often become arenas for clashes between Kurds and supporters of Turkish President Recep Tayyip Erdogan over the last few years.
Over a hundred people have staged an on-spot rally in front of the parliament building in Vienna.
In the UK, hundreds of members of the local Kurdish community gathered in front of BBC's London office at about 3am, and security has reportedly been beefed up at the entrance to the building.
The demonstrators held up a banner reading: "Kurdish existence under attack in Turkey! Politicians jailed, councils seized. A nation under siege."
Late Thursday night, Turkish police raided HDP's office in Ankara, as well as the homes of its deputies in predominantly Kurdish-populated areas of the country. The official pretext given for the arrests was that the HDP officials had refused to testify for an investigation into "terrorist propaganda" linked to the outlawed Kurdistan Workers Party (PKK), as well as violent pro-Kurdish protests that took place on October 2014. Ahead of being summoned for testimony, the deputies were stripped of their political immunity. The PKK has repeatedly claimed responsibility for attacks on Turkish law enforcement over the years and is viewed as a terrorist organization by the Turkish government.