3,000+ militants & their families leave E. Aleppo on Day 1 of evacuation operation – Russian MoD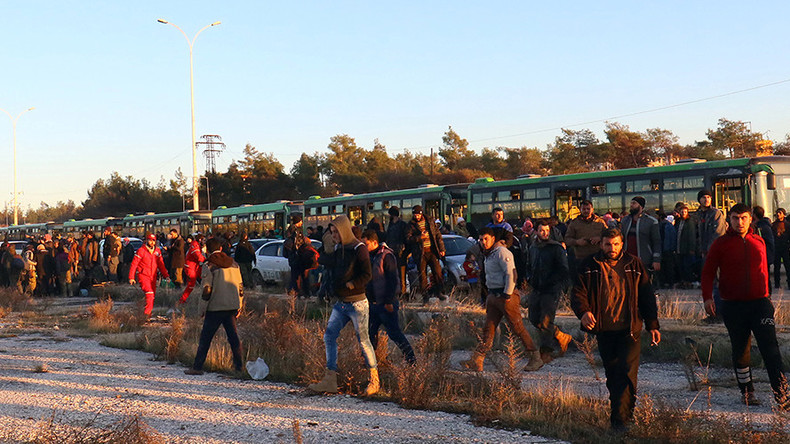 On Thursday, nine convoys carried over 6,000 people out of eastern Aleppo on the first day of an evacuation operation to transport militants and their families out of the city, the Russian Reconciliation Center said in a press release on Friday.
By Friday, nine guarded convoys had taken a total of 6,462 people out of the city through a humanitarian corridor, including more than 3,000 fighters and 301 wounded.
A nighttime video from Ruptly news agency shows a convoy consisting of green buses carrying opposition fighters and their relatives through a special corridor that leads from eastern Aleppo's Salaheddin neighborhood to the Er-Rashidin-4 district on the western outskirts of the city.
In Er-Rashidin, the passengers were reseated on other buses, which took them on to the Idlib governorate.
All passenger buses and ambulances are accompanied by officers from Russia's Center for Reconciliation of Opposing Sides in Syria and representatives of the International Committee of the Red Cross (ICRC).
READ MORE: UK & US claim Russia 'preventing' Aleppo aid as Red Cross & UN speak of close cooperation

In order to ensure safety, special security checkpoints have been set up along the convoys' route. The evacuation operation is also being monitored by web cameras set up along the corridors by the Russian Defense Ministry, as well as surveillance drones, in order to prevent provocations from the militants.
The Syrian government will ensure the security of any member of a militant group who is willing to leave eastern Aleppo, the Russian Reconciliation Center's statement said earlier.
You can share this story on social media: