US MANPAD supplies should worry Pentagon, not 'small arms' seized in Palmyra – Russian military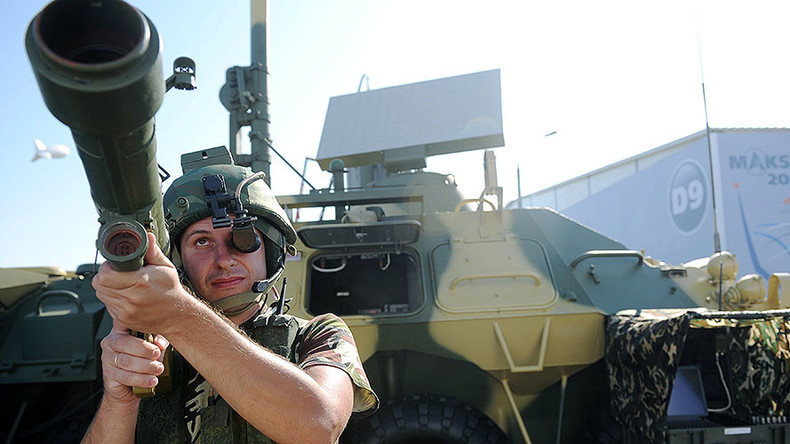 The US-led coalition should worry about potential deliveries of US arms to Syria rather than weapons left behind in Palmyra, as the city fell again into the hands of Islamic State (IS, formerly ISIS/ISIL), the Russian Defense Ministry said.
The response came after a Wednesday report given by US Lieutenant-General Stephen Townsend, commander of Operation Inherent Resolve, the US-led coalition fighting the terrorist group Islamic State. Asked by journalists, the general voiced concerns over reports that Islamic State militants captured weapons in Palmyra which could be used against American troops and their allies.
"We believe it includes some armored vehicles and various guns and other heavy weapons, possibly some air defense equipment," he said, adding that "if the Russians and the regime don't strike it, we will."
The Russian Defense Ministry described the stash of weapons as "a few small arms and several disabled military vehicles that cannot pose any threat to the international coalition."
"The thing that should really worry Gen. Townsend is the latest permission of the US Congress to deliver American MANPADs to the Syrian militants in 2017," Maj. Gen. Igor Konashenkov, spokesman for the Russian ministry, said. He added that it "was not hard to guess who will get them after they are delivered to Syria."
The Russian general warned the US against using the authorization to deliver anti-aircraft weapons to Syrian rebels, saying that expecting the weapons to be used "against aircraft of one side only" would be wishful thinking, and was not supported by the previous record of arms transfers to the region.
"Sooner or later they will bite off the giving hand," Konashenkov said.
Authorization to deliver portable shoulder-launched anti-aircraft missiles to Syrian rebels was granted by the US lawmakers in the 2017 National Defense Authorization Act, passed last week. Most observers consider it a mostly symbolic gesture.
READ MORE:2017 NDAA ups aid to Ukraine, gives arms to Syrian rebels & lets Trump sanction the world
The risk of MANPADS being used in terrorist attacks against civilian aircraft make their transfer a highly sensitive matter, and the US would have to violate its own international obligations if it chose to hand them over to non-state actors.
But such a move would not be unprecedented. During the 1980s, American deliveries of Stinger missiles to the Taliban caused significant damage to Soviet troops fighting against the insurgency at the time.
You can share this story on social media: