Trump's planned embassy move to Jerusalem backed by Israeli officials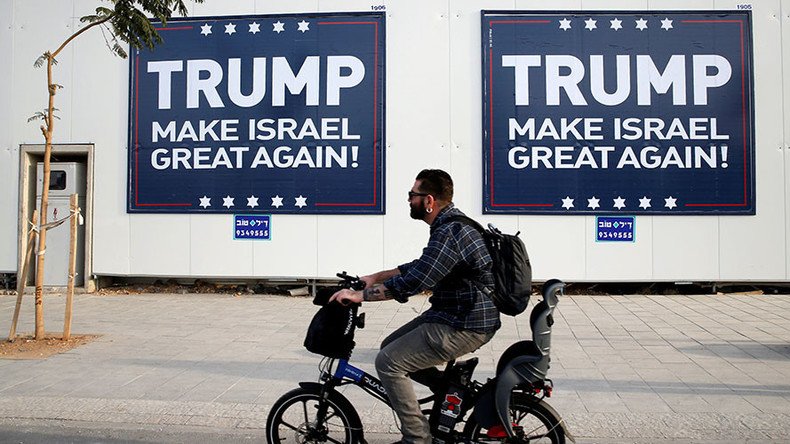 Donald Trump's apparent eagerness to fulfil his campaign pledge to switch the US embassy in Israel to Jerusalem has received the backing of local officials, who insist the move will be as easy as changing a sign on a building.
Mayor of Jerusalem Nir Barkat, said on Tuesday he is confident that Trump will deliver on his promise to relocate the embassy from Tel Aviv to Jerusalem, telling AP he has already spoken to Trump's team on the issue. "Naturally my intuition tells me that it's different this time, knowing the people, hearing his statements, where we are today," he said.
Both Barkat and his deputy, Meir Turgeman, say they have been contacted about finding a location for the embassy in Jerusalem. A building belonging to America already exists in the neighbourhood of Arnona, which was originally slated for the eventual US embassy. Jerusalem officials say all it will take is a change to the sign on the door.
The US embassy is currently in Tel Aviv, Israel's business capital. Israel classed Jerusalem as its capital in 1950, although it's not formally recognized by the international community, who maintain foreign embassies in Tel Aviv.
The CIA World Factbook states, "while Israel proclaimed Jerusalem as its capital in 1950, the international community does not recognize it as such; the US, like all other countries, maintains its embassy in Tel Aviv-Yafo."
Palestinian officials want East Jerusalem as its capital in the event of a two-state solution. Israel captured East Jerusalem in the Six Day War of 1967 and annexed it from the rest of the West Bank. The land grab is not recognized, but Israel claims all of Jerusalem as its capital.
Speaking to conservative radio host Hugh Hewitt on Monday, Trump's senior adviser Kellyanne Conway said the relocation of the embassy is a "very big priority" for Trump.
"As president-elect, I've heard him repeat it several times privately, if not publicly," she said. "It is something that our friend in Israel, a great friend in the Middle East, would appreciate and something that a lot of Jewish Americans have expressed their preference for."
"It is a great move. It is an easy move to do based on how much he talked about that in the debates and in the sound bites," Conway said of the embassy change.
"The United States of America has embassies in all of the world's capitals with the exception of Israel," Barkat said. "That's absurd, and moving the embassy to the capital of the Jewish people, to Jerusalem, is a straightforward, standard thing to do."
Conway stated that Israel is a big priority for Trump. "People think it's just marriage, abortion or religious liberties, and of course it's about all that, but it's also about a strong Middle East and about protecting Israel," she said. "Evangelical Christians always have Israel at the top of their list when you ask what's most important to them."
Previous US politicians have made similar promises to relocate the embassy, but never go further than words.
The decades-held position of US leaders is to perpetually delay a 1995 decision by Congress to recognize Jerusalem as Israel's capital. Obama recently carried on the tradition by citing "national security interests" as a reason to waive the Jerusalem Embassy Act for another six months.
Moving the embassy is seen as something that can only happen after there is peace between Israel and the Palestinians.
READ MORE: Netanyahu shows off troublesome F-35 as Israel receives first batch

If Trump were to go ahead with his plans, it has the potential to cause significant unrest across the region and alienate allies who support the Palestinian cause and peace in the region.
Mustafa Barghouti, general secretary of the Palestine National Initiative, said he was shocked by Conway's comments. "If the US takes such a decision, it will not only be violating international law, but violating a unanimously respected international principle that no country can annex another's territory by force," he said.
Adnan Husseini, Palestinian Authority minister for Jerusalem affairs, stated that "any attempt to move the embassy to Jerusalem will not help achieve peace."
You can share this story on social media: