Netanyahu shows off troublesome F-35 as Israel receives first batch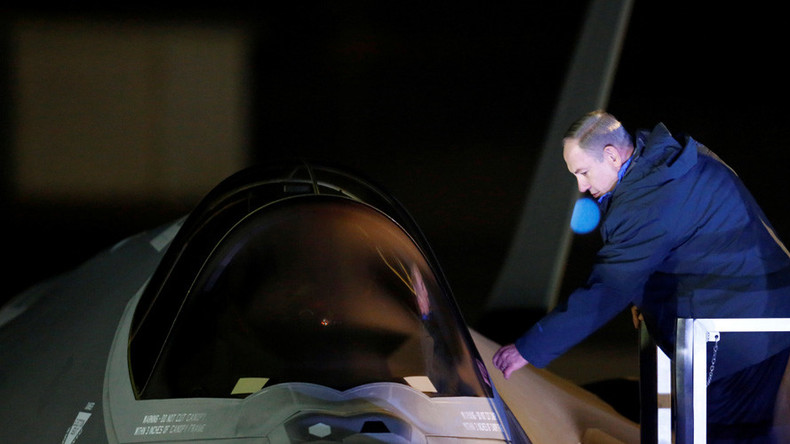 Israel became the first foreign country to receive much-hyped American F-35 jets on Monday. Despite its questionable reputation and criticism by US President-elect Donald Trump over inflated costs, Israel's leadership was very happy with the purchase.
The US military's fifth-generation fighter took 15 years to build and is projected to cost $1.5 trillion over the 55-year life of the program, as it continues to face a whole plethora of unforeseen costs, surprise setbacks, and design and technical problems – including computer vulnerability, opening it up to outside intrusion. But the F-35 is being billed as the main American weapon in the sky for the next several decades at least.
President-elect Trump, who has been one of the most vocal critics of the program, bashed the plane on Twitter on Monday – in line with his campaign promises to cut billions in military costs.
The F-35 program and cost is out of control. Billions of dollars can and will be saved on military (and other) purchases after January 20th.

— Donald J. Trump (@realDonaldTrump) December 12, 2016
The mood, however, was festive on Monday evening at Nevatim Airbase near Beersheba, where the first Adirs ('mighty' – Israel's choice of name for the fighters) arrived after taking off from Italy late that afternoon. Bad visibility due to fog delayed the arrival by six hours, pushing the welcoming ceremony back to 7:30 in the evening. Thousands were in attendance, including Israel's political and military leadership.
Israeli President Reuven Rivlin declared, according to the Jerusalem Post, that "over 22 tons of flying steel will change the Middle East, and will redefine Israel's deterrence capabilities and operational space," because "in our region, you cannot be the first among equals – you must establish a strategic advantage over enemy countries."
Israeli Prime Minister Benjamin Netanyahu took the stage afterwards to thank US President Barack Obama and Congress, adding, "I want to be clear: anyone who thinks of attacking us will be attacked. History has taught us that only strength brings deterrence, only strength brings peace and respect."
"Our long arm has now become longer and mightier," he said of the $38 billion arms deal.
Turning his attention to US Secretary of Defense Gen. Ashton Carter, Netanyahu was full of praise for the United States, claiming Israel was its "best friend in the Middle East, and personally I think, beyond the Middle East."
According to Netanyahu, Israel's goal is "to obtain supremacy in every theater: in the air, in the sea, on the ground and in the cyber world. Israel is taking off to new heights…"
Carter, who is there on a two-week global tour, said "there's no better symbol of that relationship than the F-35," adding that the two face common threats, and that the US "will continue to provide Israel with the most advanced capabilities, including more F-35s to sharpen Israel's military qualitative edge."
Just how friendly the F-35 deal is remains to be seen. The 'future of military aviation' caught fire for the second time in September during exercises. The plane has been plagued by computer issues, helmet-display issues, navigation issues, software hiccups, short range and small payload capacity and, most crucially – it's just not the maneuverable fighter the US wants it to be.
Donald Trump tweeted that the plane's costs were "out of control." That sent Lockheed Martin's shares down 2.7 percent.
In response, the company said it invested hundreds of millions of dollars into reducing costs.
Israel is the first country to receive a batch of the state-of-the-art F-35s. Earlier this year, the two countries agreed on a new aid package to Tel Aviv worth $3.8 billion, which is to be allocated annually through 2028.
Israel will begin training with the new planes immediately, but it could take "more than a few months" for the first planes to be operational, a senior Israeli Air Force official told AP in late November. He kept silent on the missions it would be used for, but it is not difficult to make an educated guess: Tel Aviv normally flies missions close to home base – either in the Gaza Strip, or to disrupt Hezbollah arms shipments in the region. There have also been rumors of Sudan missions to disrupt shipments to Hamas.
You can share this story on social media: