Russian Foreign Minister hopes militants in eastern Aleppo end resistance in 2-3 days
Published time: 14 Dec, 2016 07:47
Edited time: 14 Dec, 2016 17:21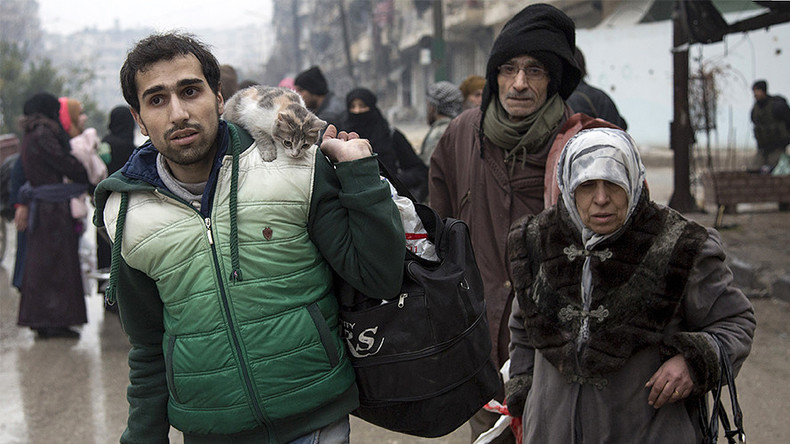 The situation in eastern Aleppo may be resolved in two to three days, Russian Foreign Minister Sergey Lavrov said. The Russian Reconciliation Center reported earlier that about 6,000 civilians have been evacuated from militant-controlled areas in the last 24 hours.
"I hope that the situation in Aleppo will be resolved in two to three days. [Russia] has created humanitarian corridors [in Aleppo] that have been and are being used by tens of thousands of civilians," Lavrov said, adding that guarantees of safety have been given to militants who voluntarily lay down their arms, and corridors have also been organized for them to safely leave the city.
READ MORE: 'Quietest night in months': RT at Aleppo battlefront as govt forces regain control
Lavrov was speaking before participants of the annual Dialogue for the Future Research and Education Program.
At the same time, Lavrov stressed that the crisis can only be solved by political means.
"This concerns Syria, this concerns Libya, Yemen, Iraq," he said, adding "what is happening in these countries, especially in Iraq – the attempt to take the city of Mosul – is no less dramatic."
"No one in Iraq, Libya, or Yemen demands a ceasefire, or a week or two of complete 'silence,' before negotiations. But in Syria they call for it," he said.
According to Lavrov, demands for such a 'silence' are being made simply so that the militants can "take a breath" and be resupplied with new weapons and ammunition.
"It happened in Palmyra. When the highly promoted operation to free Mosul was stopped, the city wasn't encircled and one corridor was left for the bandits – Islamic State fighters who, safe and sound, exited through it and headed to Palmyra, getting a signal that Mosul wouldn't be captured now."
"[At least] 5,992 civilians, including 2,210 children, have been evacuated from areas of Aleppo under the control of militants with the assistance of the Russian Reconciliation Center," the Center's statement said earlier.
They have all been placed in humanitarian centers where they are receiving food and medical assistance, the Center added.
In addition, at least 366 fighters have surrendered and entered the western part of Aleppo, according to the statement.
READ MORE: Street celebrations in Aleppo on news of Syrian Army retaking east of city – RT reporter (VIDEO)
"In accordance with the decision of the Syrian president, 329 fighters have received amnesty," the statement added.
Russian military from the Center have cleared at least 45 buildings of explosive devices and demined 16 hectares in eastern Aleppo in the last 24 hours, the statement added.
Russian demining specialists have also managed to clear at least 5.4 miles (8.7 kilometers) of roads.
Lavrov also noted that the rumors alleging that the Syrian army is committing atrocities in Aleppo, which are being circulated by some mainstream media outlets, have not been confirmed by independent humanitarian organizations.
"I receive information from independent humanitarian organizations firsthand…. No one has confirmed claims about atrocities or kidnappings," Lavrov said.
According to Lavrov, Russia is negotiating with all rebel and militant groups in the area, with the exception of Islamic State and Al-Nusra Front, now rebranded as Jabhat Fateh al-Sham.
Russia's foreign minister also called Russia-US negotiations on Syria "fruitless gatherings."
"Every time we agree on something, the Americans step back from the agreements. It happened in September, then in December," he said. "We are told: 'Russia proposes to agree on humanitarian corridors so that the militants will leave, but you should stop fighting first, then, in some days, it will be possible to create such corridors."
Aleppo militants violated agreements & attacked Syrian army on Wednesday – Reconciliation Center
Militants in eastern Aleppo attacked the Syrian army on Wednesday morning, violating agreements with the Syrian authorities, the Russian Reconciliation Center reported, adding that the Syrian army repelled the attack.
READ MORE: Drone footage shows devastation of deserted eastern Aleppo (EXCLUSIVE VIDEO)
The Center was planning to evacuate militants from Aleppo at about 6am on Wednesday. Buses were scheduled to take them through the Salah ad-Din neighborhood in the direction of Idlib, but when they arrived, the militants opened fire on the Syrian army soldiers, the Center said.