Putin's 'no-nonsense' dog causes commotion at interview with Japanese media (VIDEO)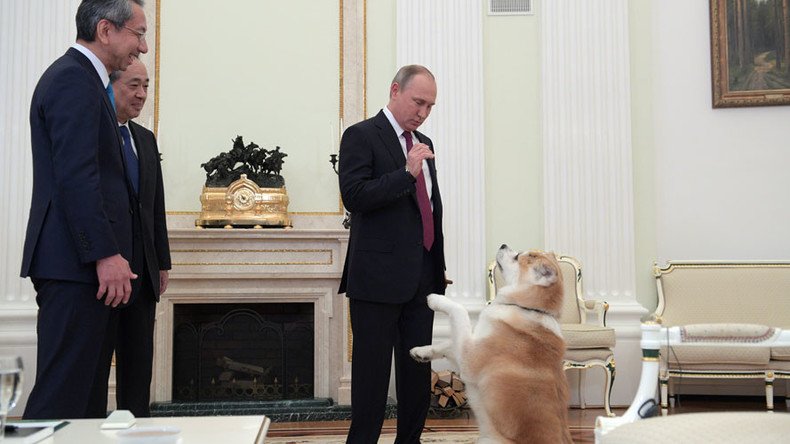 Russian President Vladimir Putin was forced to use all of his dog-handling skills as he brought his boisterous Akita breed dog, Yume, under control, after she refused to follow protocol in front of visiting Japanese journalists.
Yume was given to the Russian president by the governor of Japan's Akita prefecture as a three-month-old puppy four years ago, in a symbolic gesture of gratitude to Russia for its help following the 2011 Tohoku earthquake and tsunami.
On Tuesday, Putin was scheduled to give an interview to Nippon TV and Yomiuri Shimbun newspaper ahead of a landmark visit to Japan, and the Kremlin said that the journalists requested to check up on how well the dog was doing in her new homeland.
Putin obliged, and brought Yume to the pre-interview photo-call – but this is where things went rapidly off-script.
As the presidential pool cameras clicked, the dog began barking loudly and inching towards the interviewers, who stood frozen with – somewhat mortified – smiles, as the scene threatened to turn into an international incident.
Putin, who was holding the leash, remained unperturbed, before pulling out dog treats from the pocket of his business suit. This seemed to have the desired effect, with Yume eating out of Putin's palm and rising on her hind legs, to the delight of the press pack.
The dog was then led away so the interview could commence.
"I was told that you wanted to see my dog, Yume. You can see that she is in great shape," began Putin.
Yomiuri Shimbun Managing Editor Takeshi Mizoguchi admitted that he was "surprised" and "scared" by the dog.
"You were right to take caution, Yume is a no-nonsense dog. There are many people here, with camcorders running, lights shining, and cameras clicking. She is being a guard dog," explained the Russian president.
The dog was in a similarly uncooperative mood in 2014, when she was brought out to meet the Japanese prime minister, Shinzo Abe, during crucial trade talks in Sochi. Photos from the meeting show Putin petting the animal, while Abe keeps a respectful distance. The Russian leader admitted afterwards that Yume is prone to biting.
Prior to the visit, Japan revealed that it wanted to gift a "bridegroom" to Yume, another pedigree Akita, but the Kremlin refused. Neither side gave an explanation for the reason.
It is possible that the Kremlin was wary of adding another member of the famously independent-minded and protective breed to its kennels, or perhaps it wanted to avoid devaluing a diplomatic gesture.
Vladimir Putin is a well-known dog lover, and has been given multiple pups as gifts since first becoming president in 2000, including his beloved Labrador Retriever Konni, who died in 2014.
Konni was involved in the most high-profile dog-related diplomatic incident of recent years, when she was accused of intimidating Angela Merkel, who has a fear of dogs, during a meeting with Putin in 2007.
Putin said he had no idea about the German chancellor's canine phobia, and apologized.
You can share this story on social media: