Reform Qatari style: Employers to hold workers' passports & impose travel bans, Amnesty warns
Published time: 13 Dec, 2016 08:12
Edited time: 13 Dec, 2016 08:14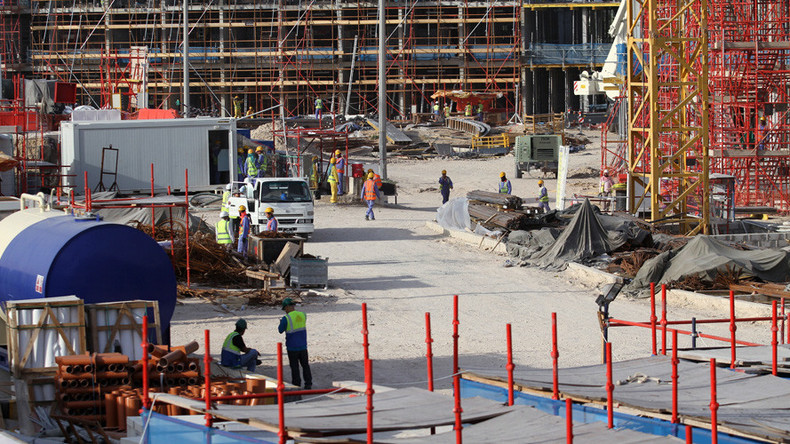 Migrant workers in Qatar remain at risk of being subjected to "forced labor" despite "meager reforms," Amnesty International has warned, noting that many of the exploited laborers have been tasked with building the 2022 World Cup stadiums.
Qatar says the new law that comes into effect on Tuesday will give workers more flexibility, freedom, and protection. The country has brought in hundreds of thousands of workers from countries including India, Nepal, and Bangladesh to build projects related to the World Cup.
However, Amnesty says the law "barely scratches the surface" in addressing Qatar's flawed labor system, and still leaves migrant workers at the mercy of "exploitative bosses" and at risk of being subjected to "forced labor."
Amnesty pointed out three key points in the new legislation that it found particularly alarming.
The first is that migrant workers will still need to obtain their employer's permission to change jobs. If they change jobs during a contract period, they will face criminal charges for "absconding." Contracts can be valid for up to five years. Workers will also still need exit permits to leave the country, which can be blocked by their employer. Lastly, employers will be able to keep workers' passports, something that has been illegal up until now.
"By making it easier for employers to confiscate workers' passports, the new law could even make the situation worse for some workers. The tragedy is that many workers think that this new law will be the end of their ordeal," James Lynch, deputy director for global issues at Amnesty International, said in a statement.
The new legislation will replace Qatar's sponsorship law, which forces foreign workers to seek their employer's consent to change jobs or leave the country. That 2009 law has been flagged as a key driver of abuse of migrant workers.
However, Amnesty says that the revised legislation is simply a new name for the old system.
"This new law may get rid of the word 'sponsorship' but it leaves the same basic system intact. It is good that Qatar has accepted that its laws were fueling abuse, but these inadequate changes will continue to leave workers at the mercy of exploitative bosses," Lynch said.
Lynch also addressed FIFA, the governing body tasked with organizing the football World Cup, saying that "FIFA, its sponsors and foreign governments seeking business ties with Qatar cannot and must not use this reform to claim that the problem of migrant labor abuse has been solved."
He added that the organization "simply cannot continue to remain shamefully ambivalent to the plight of workers in Qatar," claiming that abuses will "continue to taint the reputation of FIFA and their World Cup."
The government of Qatar rejected Amnesty's claims in a statement, saying that it is continuing to review and adapt its laws to "ensure our approach to reform is fit for purpose," Reuters reported.
"We remain committed to the development of a labor system that is fair to both employers and employees alike," the government statement said, adding that the changes will "ensure workers' rights are respected across the entire labor pathway."
Both Qatar and FIFA have come under repeated criticism because of the poor conditions under which laborers building World Cup venues work.
Nonetheless, FIFA president Gianni Infantino said in April that there was no reason that the World Cup would not take place in Qatar.
Amnesty is now calling on Qatar to carry out a "systematic reform of its labor laws that unambiguously abolishes exit permits, completely bans passport confiscation, and frees workers from the requirement to get their employer's permission to change jobs."
The statement comes just six months after Qatar's Ministry of Development Planning and Statistics released census results showing that more than 58 percent of the country's population lives in labor camps.
In March of 2017, the UN's International Labor Organization is set to decide whether Qatar is doing enough to prevent forced labor.