More than half of Qatar's population live in 'labor camps' - census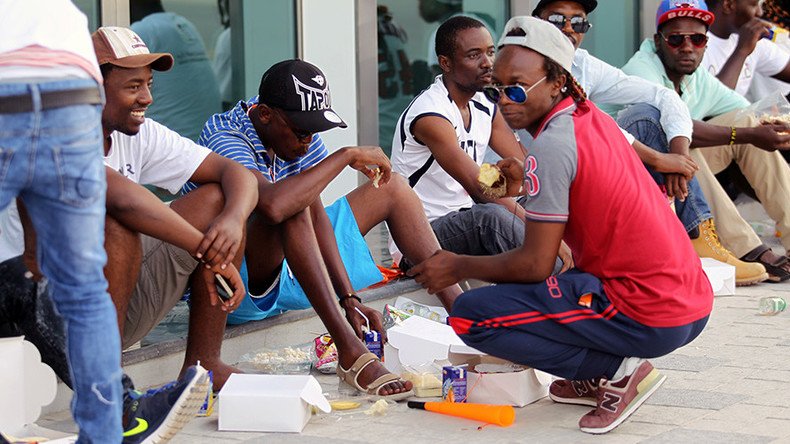 More than 58 percent of Qatar's population live in what the government calls 'labor camps,' according to the Ministry of Development Planning and Statistics.
Some 1.4 million of the country's 2.4 million population lived in the camps, according to an April 2015 census released on Sunday and cited by AFP.
Qatar's population has grown to more 2.5 million since the census, reflecting the large influx of migrant workers, largely from South Asia, that have been brought in to carry out infrastructure work in the oil-rich Gulf state. In 1986, the population was just 373,000.
Qatar has developed a reputation for slave labor and inhumane conditions for its workers, particularly in the run up to the 2022 FIFA World Cup to be held in Qatar, which has seen a boom in the construction of roads, stadia and accommodation.
Just last week, 11 people died in a fire at a camp near the Saudi Arabian border, where workers were living. The workers are employed to build a resort outside Doha, which will include a Hilton hotel.
The Qatari 'kafala,' or sponsorship system, sees migrant workers dependent on employers, needing their permission to obtain drivers' licences and leave the country. This leaves employees open to exploitation.
Qatari labor camps have been reported to be overcrowded and with poor conditions that include overflowing sewerage and oppressive heat. A 2014 BBC report found labor camps in Doha to be "squalid" and overcrowded.
"Twenty and sometimes up to 40 men have to share a kitchen, which is often just a few cooking hobs hooked up to gas canisters and nothing more. The toilet and washing facilities are so basic and dirty that some men use buckets of water to wash," the BBC reported.
The government has responded by saying they will improve conditions, including building new housing and cities for migrant workers.
In 2015, the $825 million "Labour City" was opened. It can house 70,000 workers and includes four cinemas, a cricket field and Qatar's second largest mosque.
In May 2015, BBC reporters were arrested on a Qatari PR trip to visit new accommodation for workers. They were detained while on their way to interview a group of Nepalese workers.
"This is not Disneyland," they were told. "You can't stick your camera anywhere."
Amnesty International, Human Rights Watch and other groups have condemned the country for its worker conditions which include a lack of workplace safety, low salaries and poor living conditions.
Amnesty reports workers commonly have passports confiscated by employers, meaning they are trapped in Qatar with no way to return home.
Following the 2015 Nepali earthquakes, Nepalese workers in Qatar reported that employers were refusing to pay their airfare home, as legally required.
FIFA, the international governing body of football, has been criticized for failing to address poor working conditions.
New FIFA president Gianni Infantino visited Qatar in April and said there was no reason why the World Cup would not take place there, dubbing the first Middle Eastern World Cup as one of "inclusion" and "building bridges."
Indian Prime Minister Narendra Modi visited a worker camp in Doha on Saturday, during his recent visit to the kingdom.
He ate with Indian workers and said"I am aware of the issues you are facing. I will talk about it when I meet the authorities."
He also reminded them to focus on keeping their health and body fit. In 2013, 191 Indians died in Qatar, many from heart failure, according to the India Times.
Qatar enjoys the highest income per capita in the world, largely due to its oil reserves, but the wealth does not extend to the migrant workers that toil to build the country.
You can share this story on social media: