Qatar opens 'Labor City' for 70,000 migrant workers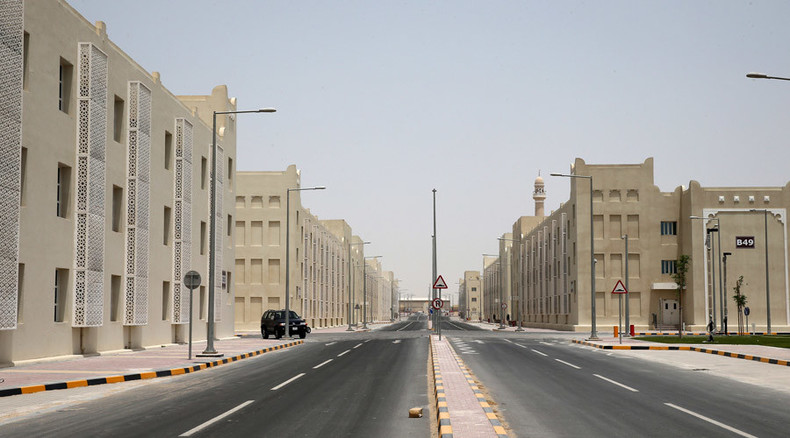 An enormous worker complex in Qatar has been opened just outside of Doha. 'Labor City' can accommodate some 70,000 foreign workers, who come to the Gulf state to participate in its grand construction projects, such as those for the 2022 FIFA World Cup.
The country's Special Engineering Office officially presented the $825 million housing project which is set to house some 68,640 workers.
Sunday's ceremony in the capital, Doha, was opened by Prime Minister Abdullah bin Nasser Al-Thani and the Labour Minister Abdullah al-Khulaifi, who reiterated that improving living standards for migrant workers has become the country's priority.
Labour City, which lies just 14 kilometers from Doha and covers an area of 1,100,000 square meters, is just one of seven house complexes that the government is building to house almost 260,000 labor migrants.
The new "model" project has two sections with residential apartments, and another which includes the entertainment and business district. Residents can enjoy a 17,000 seat theater on the premises. The city offers a commercial center and a market with 200 shops. It has four cinemas and a cricket field.
To make it feel more like home, Labour City has two mosques, including one that is the country's second largest.
The second section contains 55 residential buildings, places of worship, a medical clinic and parking lots. Labor City is equipped with public telephones and Wi-Fi centers. So far around of 40 percent of the site is still vacant, the other is occupied by laborers from other countries including Nepal, India, Sri Lanka and Vietnam.
To offer security, two police stations are working on the premises with the help of an integrated network of surveillance cameras.
Qatar is massively investing in building stadiums and hotels for the 2022 World Cup, at a projected cost of $16 billion. On top of this the additional infrastructure required to host the games could push total costs up to some $200 billion.
You can share this story on social media: