Saudi woman arrested for going out without traditional Muslim clothing – reports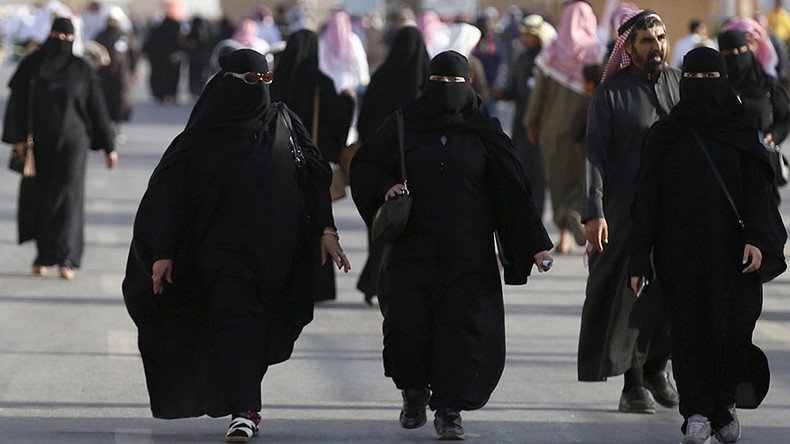 The police of Saudi Arabia have detained a young woman for violating modesty rules after she walked through one of the main streets of the Saudi capital of Riyadh presumably dressed in a jacket over a dress rather than in traditional robe and headscarf, local media reported.
The woman was reportedly arrested after a complaint was filed by the Saudi religious police known as the Promotion of Virtue and Prevention of Vice Authority.
"Police officers have detained a girl who had removed her abaya on al-Tahliya street, implementing a challenge she announced on social media several days ago," the Riyadh police spokesman, Colonel Fawaz al-Maiman, told the Saudi Al-Sharq newspaper.
An abaya is a loose-fitting, full-length robe that woman are required to wear in public in Saudi Arabia alongside with hijab, which is a headscarf that leaves a face open, or niqab – a full-face veil leaving only a small opening for the eyes.
Even non-Muslim female foreigners are usually required to wear at least the abaya and Muslim women are expected to wear at least the hijab when they enter the Arab kingdom.
The arrested woman is identified as Malak Al Shehri, who provoked a wave of condemnation on Saudi social media platforms in late November by posting photos of herself wearing a dark blue coat, bright multicolored skirt and boots while walking though the Riyadh streets on Twitter.
Before posting the photo, Shehri told her followers that she was going out to breakfast without wearing a hijab or abaya, International Business Times reported. She was asked to post a photo. The picture quickly began circulating throughout social media and Shehri eventually started receiving threats and hateful messages that forced her to delete her account.
That led to online insults and condemnation. Some even called for her prosecution and execution. On Twitter, an Arabic hashtag was launched that read "#we_demand_imprisonment_of_Malak_Al-Shehri."
But the woman appears to have a lot of supports as well – a hashtag #FreeMalakAlshehri was launched both in English and Arabic after reports of her being arrested.
A Saudi student, who re-tweeted Shehri's posts alongside with screenshots of hateful messages she received, told IB Times that women in Saudi Arabia are deprived of even "the simplest of freedoms."
"I'm an atheist and I still wear the hijab in most places because that's how society here is it's inexcusable to remove it, in fact, many of my atheist friends have to cover their faces because their families are more conservative than mine, and it's not just atheists, many Muslim women want to remove them," she said.
Saudi Arabia is one of the most conservative countries when it comes to women's rights. It is particularly the only state where women are banned from driving. In Late November, a Saudi Prince, Alwaleed bin Talal, said that the regulation making it illegal for women to drive should be scrapped by his proposal failed to gain enough support in the Saudi most influential advisory body, the Shura Council.
Last year, under the late King Abdullah, female advisers were appointed to the Shura Council, and women were given the ability to vote and run in municipal elections. Authorities also said that divorced and widowed women would be allowed to obtain family ID cards for their children in future, so that they could register them in schools and with healthcare services.
However, Saudi women still need permission from a male relative or guardian to marry, travel, enroll in higher education or even get a passport under what is called male guardianship.
In September, some 14,000 women filed a petition calling for the removal of the laws, on which the male guardianship practice is based. The move was preceded by a social media campaign waged under the hashtag #StopEnslavingSaudiWomen and an Arabic hashtag that translates as "Saudi women want to abolish the guardianship system."
In September, Twitter suspended accounts engaged in the #StopEnslavingSaudiWomen hashtag, which had begun to trend.
You can share this story on social media: