IMF chief Lagarde goes on trial in Paris on negligence charges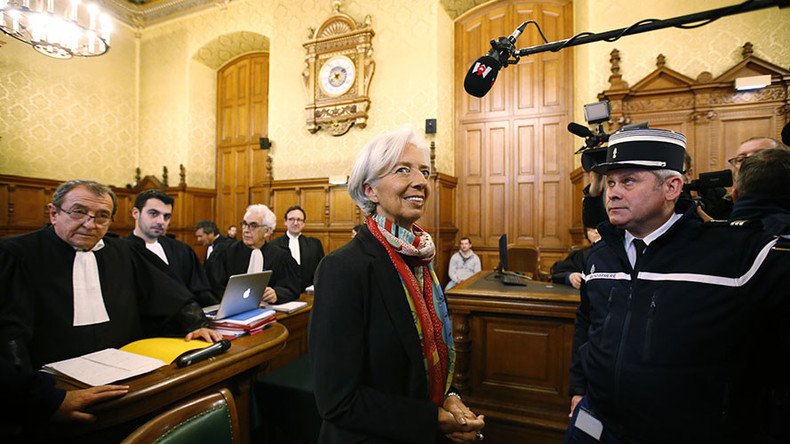 International Monetary Fund head, Christine Lagarde, has appeared before court on Monday in Paris, facing negligence charges over allowing a handout of $425 billion to a French tycoon, while being the country's finance minister in 2008.
Lagarde was described by AP as being "poised and serious" as she went on trial at the Court of Justice of the Republic, intended for proceedings against government ministers.
She took notes as judge summed up the case which was launched back in 2011, a month after Lagarde became the IMF president.
The 60-year-old had to declare her identity, age, address, professional activity and salary in court and confirmed that she was earning $450,000 a year.
According to Lagarde, she is taking time off her day job at the International Monetary Fund to face trial.
Her lawyer, Patrick Maisonneuve, asked for a delay in the proceedings, stating that it is unreasonable for Lagarde to face trial when a separate investigation in the broader case is still under way.
If the lawyer's appeal is not satisfied by the judge the trial against the IMF chief is due to conclude on December 20.
Lagarde, who faces up to a year in prison if found guilty, denies any wrongdoing.
"Negligence is a non-intentional offense. I think we are all a bit negligent sometimes in our life. I have done my job as well as I could, within the limits of what I knew," she told France 2 television on Sunday.
Back in 2008, Lagarde as a French finance minister approved a handout of 403 million euro ($425 million) to tycoon, Bernard Tapie, in an arbitration deal in 2008 over the sale of Adidas sportswear maker.
The investigation, which was launched due to an unusually high award, came to a conclusion that the whole affair was rigged in favor of Tapie, who had connections in the highest circles of French society, including then-President Nicolas Sarkozy.
Lagarde is accused of serious negligence "not only from a questionable carelessness and precipitation, but also from a conjunction of faults which, by their nature, number and seriousness, exceed the level of mere negligence,'' the judges wrote after the investigation concluded.
READ MORE: IMF's Lagarde sees Russian economy heading toward stable growth
Lawyer Maisonneuve told Europe-1 radio that Lagarde as a government minister was simply following instructions from her administration, having no time to read all 15 years of legal files in the Adidas case.
In an ongoing separate criminal investigation into the case, Tapie and several other high-ranked players, including current Orange CEO, Stephane Richard, were given criminal charges of gang-related fraud.
The trial and a potential prison term may put Lagarde's future as IMF chief in question. Her predecessor, another Frenchman, Dominique Strauss-Kahn, was forced to resign in 2011 amid allegations of sexual assault.
You can share this story on social media: