EU to provide funds to Mali in exchange for easier migrant repatriation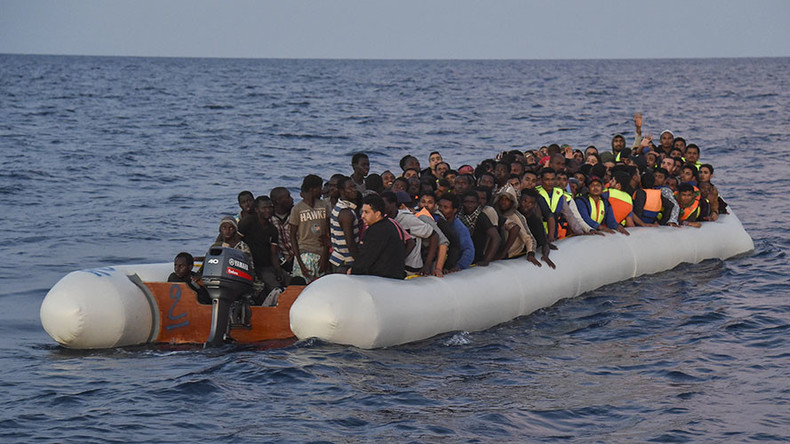 The EU and Mali have reached an agreement on repatriating asylum applicants who are denied entry by European authorities. In exchange for Mali accepting the migrants back, the EU will invest funds to help it and its neighbors improve border security.
"It is the first time the EU establishes such a precise mechanism with an African country with regards to returning failed asylum seekers," a statement from Dutch Foreign Minister Bert Koenders, who signed the agreement on the EU's behalf, said on Monday, as cited by Deutsche Welle. Koenders, who was on an official visit to the Malian capital Bamako, called the deal "necessary," explaining that it aims to fight the root causes of illegal migration.
"There is support for the way in which we want to do a partnership with Mali, which involves very much working on the root causes in Mali, on why people are leaving," he said, as cited by Reuters.
"We've worked a lot on the battle against trafficking, now we can work together to ensure that no people are dying on the road to Libya and Algeria," he told the news agency.
Under the agreement, the EU will provide funds to Mali to help it create more jobs and improve border management, including by introducing biometric passports and advancing security in the northern part of the country, which borders Algeria.
In return, Mali promised to repatriate its citizens who have reached Europe but were deemed ineligible for asylum there, and also aid the EU in the fight against people smugglers.
The deal comes as the EU looks to collaborate on migration with the countries from which most asylum seekers originate. Some 1.4 million people have arrived in the EU since last year, many of them taking a dangerous route across the Mediterranean Sea. According to the latest data from the International Organization for Migration (IOM), this year has seen an estimated 4,733 casualties among migrants trying to reach Europe via the sea, which is 1,148 more recorded deaths than at the same point in 2015.
As of December 7, more than 350,000 migrants had entered Europe by sea since the beginning of 2016. Most came from Syria, where the civil war has claimed the lives of over 250,000 people and displaced some 12 million others since 2011, UN figures show. Asylum seekers have also come in large numbers from Afghanistan, Iraq, Libya, Eritrea, Mali and other countries in the region.
The flood of migrants and refugees has in many cases caused a mixture of anger and uncertainty among European nations, and the bloc has made curbing immigration a priority. EU states have been strengthening their common external borders and adjusting legislation, and are now working on similar deals to the Mali one with Ethiopia, Senegal, Nigeria, Niger and Afghanistan.
READ MORE: 'Don't go any further': Erdogan accuses EU of betrayal, threatens to open borders for migrants

In March of this year, the EU reached a landmark deal on migrants with Turkey. The sides agreed to return all illegal migrants reaching Greece from Turkey's shores in exchange for the EU taking in thousands of Syrian refugees directly from Turkey and giving Ankara €6 billion ($6.8 billion) in funding over the next five years. The deal, however, has recently been threatened by Turkey itself, as it aimed to gain visa-free travel within the Schengen Zone for Turkish citizens, but no moves in this direction have been undertaken by the EU.
Apart from Turkey, Jordan and Lebanon host most of the refugees from the Syrian war. These have also been receiving more EU funds as help in coping with the newcomers, as well as means to prevent them from moving on to Europe.
You can share this story on social media: