Polish march featuring anti-Ukrainian slogans sparks outrage in Kiev (PHOTOS, VIDEO)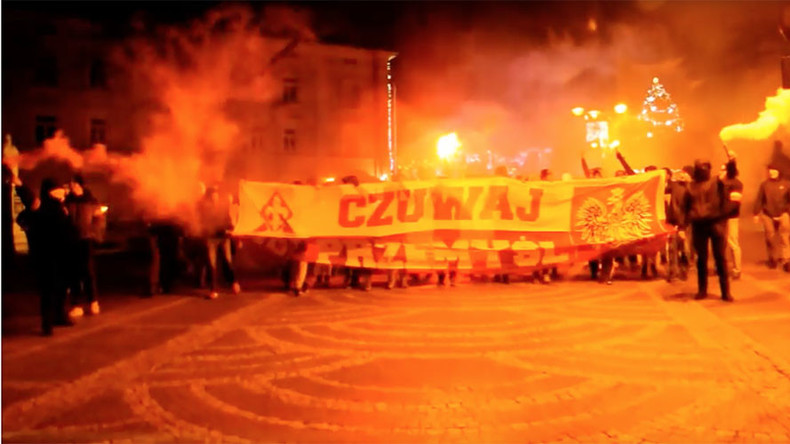 A march in Poland to commemorate a battle between Poles and Ukrainians in 1918 was marred by anti-Ukrainian slogans, one of which demanded that the city of Lvov in western Ukraine be returned to the Poles. Kiev wants an investigation.
The march, which took place in the southwestern Polish city of Przemysl on Saturday, was attended by local politicians, historians, activists, and radicalized youths. According to the Prostir news portal, one of the march organizers was the National Radical Camp movement.
Dubbed "March of Eaglets of Przemysl and Lvov," the event ended without clashes, though at some point a marcher chanting "Death to Ukrainians!" was recorded on camera. The Association of Ukrainians in Poland (OUP) also noted another chant along the lines of "Przemysl, Lvov are always Polish."
The president of Przemysl's city council told the crowd that Polish troops had sacrificed their lives "so that we can live in a free Poland and remember that Lvov was once a Polish city, an integral part of the Polish republic with a certain tradition and history" according to Wschodnik news outlet.
Neither the rally itself nor the historical background behind it went down well with Kiev. Ukraine's ambassador to Poland, Andrey Deshchitsa, slammed the event as an "incitement of hatred," while demanding that the anti-Ukrainian slogans be thoroughly investigated.
"These specific provocations and statements of a single person can destroy collaborative work done by Poland and Ukraine," he told Ukrinform news agency.
Nationalists, rival groups march through Warsaw on Polish Independence Day (PHOTOS, VIDEO)

Deshchitsa, who had been Ukraine's Foreign Minister when he was fired in 2014 after calling Russian President Vladimir Putin a "f**ker," said that the rally saddened him, as it came not long after Ukraine and Poland had agreed to strengthen their military-to-military ties and boost defense cooperation.
There have been other instances of anti-Ukrainian sentiment recently being demonstrated in Poland.
In mid-November, Polish nationalists burned a Ukrainian flag during a 100,000-strong rally in Warsaw, while screaming insults about Stepan Bandera, a World War II-era Ukrainian leader whose followers are believed to have slaughtered many Poles.
Other live feeds from the event showed nationalists carrying red-and-white Polish banners through wet streets, with many waving flares and firecrackers. Some were holding banners depicting a falanga – a far-right symbol from the 1930s depicting a stylized hand holding a sword.
Other banners read "God, Honor, Fatherland" and "Death to the enemies of the fatherland," and "To be a Pole, to be Catholic is a privilege and honor."