EU signs historic deal with Cuba on political dialogue, cooperation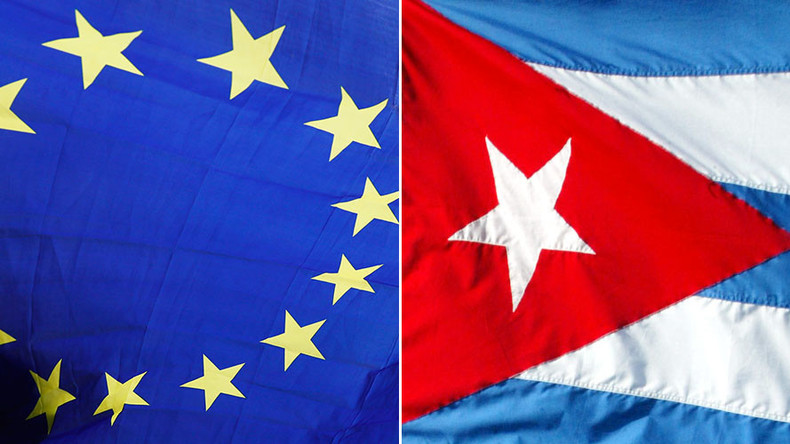 The European Union has signed a historic deal with Cuba on political dialogue and cooperation, according to the EU Council. Cuba was the only Latin American country to lack such an agreement with the 28-member bloc.
The deal was signed on Monday by the heads of EU member states, along with Cuban Foreign Minister Bruno Rodriguez Parrilla.
"Economic links with Europe will continue to be a priority for Cuba as we build a socialist economy," Parrilla said on Monday, as quoted by AFP. He added that the agreement "demonstrates that with good will and respect it is possible to make progress and resolve differences."
The deal will be submitted for ratification to the European Parliament, member state national parliaments, and the Cuban National Assembly.
After the ceremony, EU foreign policy chief Federica Mogherini said that EU-Cuba relations will remain unaffected by the presidency of Donald Trump, according to Sputnik.
READ MORE: American businesses urge Trump not to sever Cuban ties
Cuban and EU officials signed a normalization deal in March, but still needed backing from the 28 member states.
Signing the deal was made possible after the EU repealed a 1996 policy last week, which had stated that Cuba must first improve its human rights conditions before a full normalization of ties could happen.
"Through the new agreement, the EU is ready to support Cuba's process of economic and social modernization," Mogherini said last week, adding that "we are truly at a turning point in the relations between the EU and Cuba."
Cuba had been the only Latin American country which did not have a so-called 'dialogue and cooperation' deal with the EU, covering issues ranging from trade to human rights and migration.
READ MORE: Fidel Castro's Soviet adventures in rare photos from his first visit to USSR
The signing follows the death of former Cuban leader Fidel Castro, who passed away last month at the age of 90.