13k+ civilians freed from E. Aleppo in 24 hours, 700 fighters lay down arms – Russian Def Min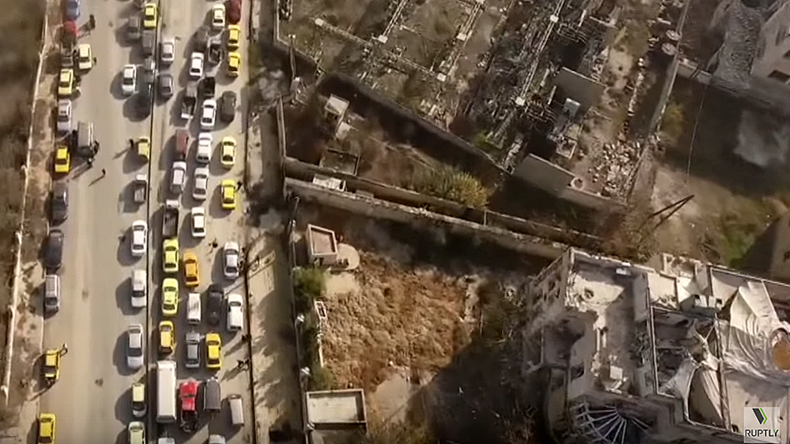 Over 13,000 civilians have been rescued from militant-held parts of eastern Aleppo with the help of the Russian Center for Reconciliation in the past 24 hours, while more than 700 militants have laid down their arms and surrendered to the Syrian army.
"Within the past 24 hours, 13,346 civilians have been evacuated from the Aleppo districts that remain under the control of militants with the assistance of the Russian Center for Reconciliation of warring parties, including 5,831 children. 728 militants have laid down their arms and crossed into the Western part of the city," Russian Defense Ministry spokesman Major-General Igor Konashenkov said in a statement on Monday morning.
Konashenkov added that all of the liberated residents have been accommodated at aid centers, where they are being supplied with warm food and medical aid, when needed.
READ MORE: Russian & Syrian actions in Palmyra a 'service to mankind' – former US ambassador to RT

Russian servicemen of the International Mine Action Centre are continuing to demine the neighborhoods in eastern Aleppo that have been freed from terrorists and rebel militants.
"In 24 hours, they have cleared a total area of 7.1 hectares, a school, a mosque, a kindergarten, police headquarters an about 3.5 kilometers of roads," Konashenkov said. Earlier, the head of International Mine Action Centre, Igor Mikhailik, said that the sappers have been finding "on average, from 50 to 100 ordnances per day. About half of them are improvised explosive devices – including landmines guided via wires and radio – made by militants for use in various conditions."
READ MORE: Over 78,000 civilians have escaped Aleppo since start of Syrian forces' operation – Russia

The Russian Center for Reconciliation is monitoring the withdrawal of civilians from the [militant-held] areas round the clock. An online broadcast of the evacuation of citizens is available at the Russian Defense Ministry's official website.
Meanwhile, scores of civilians were seen returning to their homes in the al-Sakhour and al-Shaar districts in eastern Aleppo, as shown in the drone footage below. Government forces liberated the neighborhood over the weekend.
On Saturday, the Syrian Arab Army also officially managed to enter Al-Tall, a key suburb in rural Damascus, which has had been held by the rebels until now. That neighborhood is believed to be the last suburb northwest of Damascus that was still under militant control.
WATCH MORE:
Meanwhile, the Russian Reconciliation Center said on Monday that the militants now control just 10 square kilometers of eastern Aleppo. Over the past few days, more than 100,000 civilians, including 40,000 children, have left the area, the Center's statement said.
In other parts of Syria, such as Palmyra, government forces are engaged in violent confrontation with Islamic State. Various reports allege that the terrorists outmanned the Syrian troops over the weekend and forced them to retreat from most of their positions. Kremlin spokesman Dmitry Peskov said "the threat of losing Palmyra is a loss for all civilized humankind, not just for Russia."
According to Russia's Defense Ministry, over 4,000 IS fighters are trying to seize residential blocks in Palmyra that the Russian Air Force will not attack. However, the militants suffered significant casualties during their offensive, and the Syrian army is now preparing to counter-attack, the ministry added.
You can share this story on social media: