Russian & Syrian actions in Palmyra a 'service to mankind' – former US ambassador to RT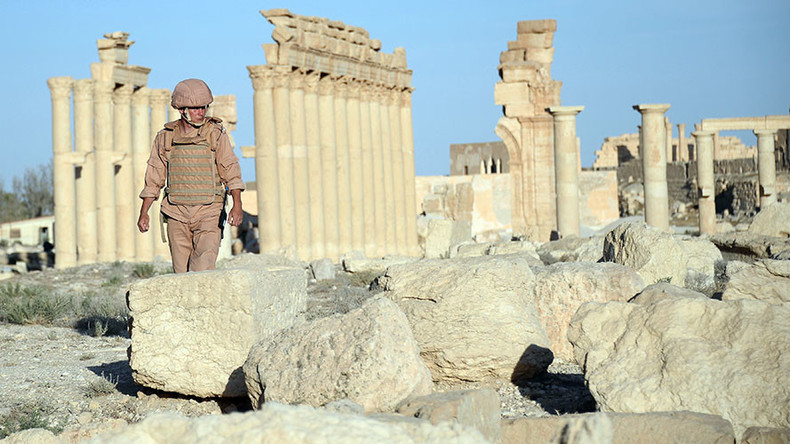 Russia's support of the Syrian Army battling ISIS terrorists in Palmyra is a service to mankind, a former US ambassador to Croatia told RT. He said the West and the opposition should realize that Assad "has won this war" and stop the bloodshed so as not to not "end up with nothing."
"Russian air strikes and [the] Syrian government putting more troops [in Palmyra] is a service to mankind, to preserve both the population of the area but also these important monuments that really are [part of the] common heritage of all mankind," former US ambassador to Croatia, Peter Galbraith, told RT with regards to the ongoing military operation against jihadists attacking Palmyra.
Islamic State (IS, formerly ISIS/ISIL) terrorists launched an offensive to re-take Palmyra on Saturday, reportedly gaining a foothold in the city, before being pushed out by the Syrian Army. According to the Russian Reconciliation Center in Syria, over 4,000 terrorists, backed by tanks, have since regrouped for yet another assault.
"Certainly one doesn't want to see the Islamic State retake Palmyra, and Russian air strikes and Syrian troops are there to protect them [the people], and I hope they succeed," Galbraith told RT.
The Russian Defense Ministry stressed that it doesn't strike residential areas of the city due to the risk of civilian casualties, yet confirmed air strikes against militants on the outskirts of Palmyra.
Some 80 percent of Palmyra residents were evacuated as a precaution, according to the provincial governor, Talal Baraz, who said violent clashes continue in the outskirts of the ancient city, RIA Novosti reported . However, the advance of IS-fighters in Homs province, Baraz said, is not having any effect on the anti-terrorist fight in Aleppo or elsewhere across Syria.
'It's clear Assad has won this war'
The West has the right to be "concerned" about the loss of life and "some of the tactics" that the Syrian government has been using to liberate eastern Aleppo from Jabhat al-Nusra terrorists and other militants, Galbraith said. Apart from the jihadists, the ex-ambassador said, there are civilians and "moderate fighters that simply oppose the Syrian government there."
However, Galbraith said the West should realize that President Bashar Assad and the Syrian Army have won the fight there, and it is time to stop the bloodshed.
"It's clear that he [Assad] has won this war. The important thing now is to try and figure out ways to bring the fighting to an end."
"There is no point in continuing the war once it has already been lost," he added.
Galbraith also criticized Obama's strategy to arm so-called moderate opposition groups in Syria, since his successor Donald Trump already promised to work together with Russia and the Syrian government against terrorists. The former ambassador pointed out that there is "no merit in arming rebel groups after they've lost" as this is "only going to get more people killed."
"And so again, I can't see any point in policy for 45 days of arming rebel groups and then have a President come in who is going to go on the opposite side of the conflict."
Russia & West have 'common interests' in Syria
Despite all the differences existing between Moscow and its western partners, there are still opportunities left for a joint work in Syria, Galbraith said.
"Russia and the West have some common interest in Syria. I don't think that Russians are looking for the obliteration of all the Syrian opposition," he said.
A continuation of violence would create higher numbers of displaced people, who could end up fleeing to Europe, boosting the refugee crisis there. "If Europe is destabilized, it's not going to be good for Russia," the former diplomat said.
In fact, if Moscow and Washington join their efforts on Syria, they can reach "a negotiated surrender by the opposition where they don't end up with nothing," Galbraith told RT. There might be "even a discussion on a certain level of a political opposition" in the country.
Such an agreement should of course include an "amnesty for the rebel fighters" with "international monitoring" to make sure that there would be effectively no retribution from the government, he noted.
Joint work between the US and Russia could also envision the rebuilding of Syria so that "reconstruction assistance is spent fairly, including on those who were rebels."
"I think that these are things that are achievable," Galbraith concluded. "It's not great but it's better than nothing."
You can share this story on social media: