NATO officers caught in Turkey's post-coup crackdown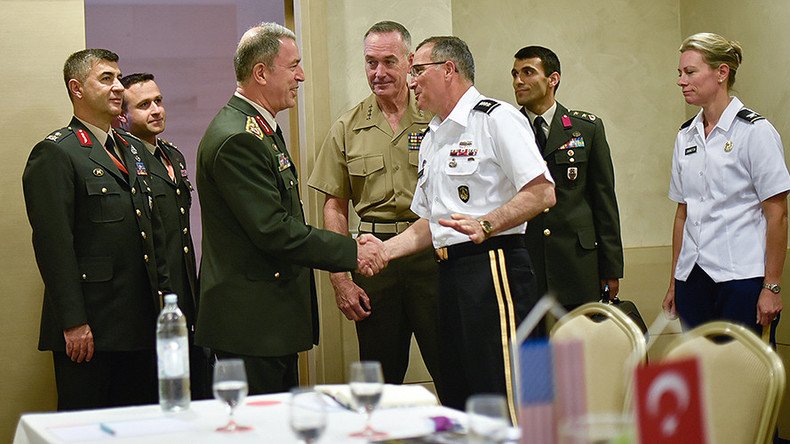 NATO remains understaffed after Turkey initiated a massive crackdown on its military, a top alliance general said, voicing concerns about the wellbeing of the purged servicemen and insisting that the talented and capable officers had nothing to do with the failed July coup.
Turkey, a major NATO member, launched a massive manhunt spanning all levels of society following the failed July 15 plot to topple the government. Authorities went on to detain close to 38,000 people while purging more than 100,000 employees from government jobs.
The military has also witnessed a large-scale crackdown on alleged followers of US-based Muslim cleric Fethullah Gulen, accused by the government of masterminding the plot. Ankara on a number of occasions has also accused the West of possibly being behind the coup.
Commenting on the purges and the impact the crackdown is having on NATO operations, Curtis Scaparrotti, NATO Supreme Allied Commander in Europe, said that half of the 300 or so Turkish military staff assigned to NATO were detained, recalled or retired from the alliance from mid-July. About 75 of them have been replaced so far, Reuters reports.
Losing experienced officers placed "an extra load on our remaining people," he said, and "it obviously has an impact on their military."
"I had talented, capable people here, and I'm taking a degradation on my staff," he added, stressing that it will take some time to find new officers with that level of experience.
The four-star general stressed that those relieved of their duties had not been involved in any coup plot as he expressed concern about the welfare of the departed officers and their families.
"I have a concern about what happened to the people who were working for us," the general told reporters in Brussels after NATO meeting, adding that the chief of Turkey's army is keeping an eye on the servicemen.
"I've said to General (Hulusi) Akar, my concern is that they would follow the rule of law and treat their people appropriately," Scaparrotti said, adding that Akar had promised he would "personally look into their welfare."
As the EU, US, and the UN continue to criticize Ankara for the crackdown, last month NATO Chief Jens Stoltenberg confirmed that some Turkish officers working in NATO had applied for asylum following the coup attempt in Turkey.
The July 15 coup attempt left 248 dead, and around 2,200 others wounded after parts of the military which Erdogan said were Gulen loyalists launched an operation to seize power.
The operation involved 35 military planes, 37 military helicopters, 74 tanks, and 246 armored vehicles. The rogue armed forces units also used three military ships and over 3,900 guns in an attempt to topple the government.
The confrontation on July 15 grew so tense that the F-16 fighter jets bombed the presidential complex three times and the parliament 11 times, according to a new government pamphlet.
You can share this story on social media: