Erdogan warns NATO against asylum to 'terrorist soldiers' after Turkish officers file requests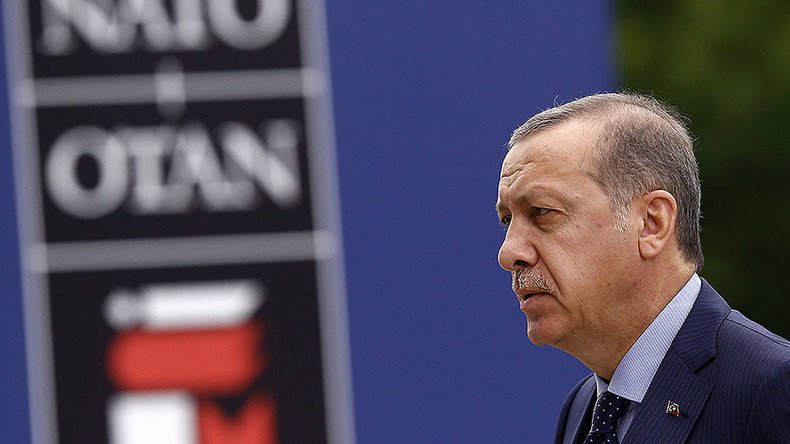 Turkish President Recep Tayyip Erdogan warned NATO countries against granting asylum to the military suspected of having links to the plotters of the failed July 15 coup after dozens of Turkish NATO officers sought asylum in Europe.
"How can a terrorist, a terrorist soldier, a soldier who has been involved in plotting a coup, be employed in NATO?" Erdogan said, as cited by the Milliyet newspaper.
"NATO cannot entertain accepting asylum requests of this kind. Those in question are accused of terror," he added, stressing that the Turkish government demanded extradition of these military personnel and said that giving them shelter is inexcusable.
On Friday, NATO Secretary General Jens Stoltenberg confirmed that a number of Turkish officers serving in NATO structures in Europe had recently filed asylum requests, citing personal safety concerns in the view of the crackdown launched by the Turkish authorities following the foiled coup.
Stoltenberg added that the officers' asylum requests would be processed by the concerned NATO members independently and the alliance would not interfere into this process. "We would be wrong if we started to go into that kind of legal issue; that's for the judicial system" of the countries concerned, he said, as quoted by AFP.
Neither Stoltenberg, nor Erdogan revealed the exact number of Turkish officers, who sought asylum in European countries, although the Turkish president said this number was "not high."
At the same time, German media reported on Thursday that almost 60 Turkish nationals holding diplomatic passports filed asylum requests only in Germany after receiving orders to return to Turkey. According to Deutsche Welle, most asylum applicants were Turkish military personnel employed at NATO bases in Europe.
Some Turkish government officials and the military personnel family members, including reportedly also the family of the defense attaché of the Turkish Embassy in Berlin, were also among those, who applied for asylum in Germany following the July 15 failed coup.
Only three Turkish diplomats returned to Turkey from Germany since July after being ordered to do so, Deutsche Welle reports, citing diplomatic sources and adding that all three diplomats were then removed from office following "extensive interrogation."
Turkish authorities still continue to crack down on those they suspect of having links with the 'Fethullahist Terror Organization.' Turkey accuses US-based cleric Fethullah Gulen ofhaving been behind the coup attempt on July 15 that ultimately failed to oust Erdogan from power.
On Friday, Turkish police detained more than 70 academics at an Istanbul university and replaced 34 heads of municipalities previously run by the members of the pro-Kurdish Democratic Regions' Party (DBP), Reuters reports.
At least 37,000 people have been arrested and more than 100,000 were sacked or suspended since July for allegedly having links to the movement led by the US-based cleric.
The crackdown has become a source of tension between Turkey and Europe. Earlier, Erdogan already accused Germany of "aiding terror" in a speech in the Turkish capital of Ankara on November 3.
Two days earlier, Turkish Prime Minister Binali Yildirim dismissed the latest round of criticism from EU countries by maintaining that European standards do not apply to Turkey, while promising that Ankara will not be intimidated by EU threats.
On November 4, US and EU leaders, including German Foreign Minister Frank-Walter Steinmeier, Swedish Foreign Minister Margot Wallström, EU foreign policy chief Federica Mogherini and Austrian Foreign Minister Sebastian Kurz, criticized Turkey's actions and voiced concerns over the arrests of two co-leaders and at least 12 MPs of the People's Democratic Party (HDP) in Turkey.
An annual report by the European Commission on Turkey's candidacy for European Union accession also slammed it for press freedom repression and post-coup attacks on the judiciary sphere, German media reported on November 7.
You can share this story on social media: