Brawls, arrests as 3,000 far-right protesters stage torch-lit march in Helsinki (VIDEO)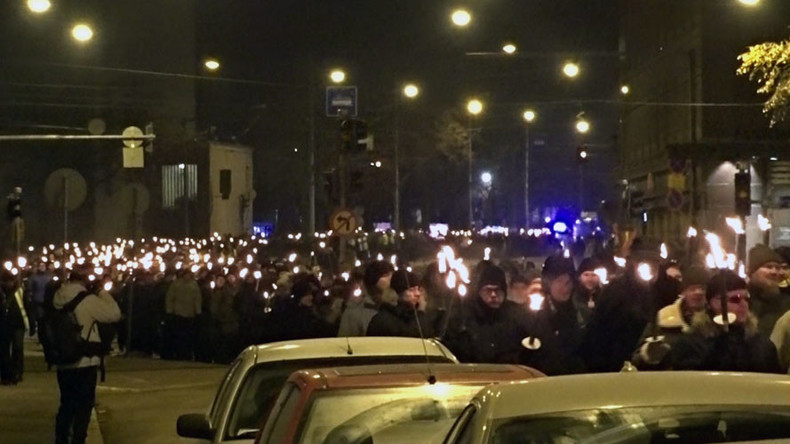 Thousands of Finnish far-right protesters have taken to the streets of the capital Helsinki to stage rallies and a torch-lit march dedicated to the 99th anniversary of the country's independence. 
The demonstrators, guided by police, marched through the city to the Hietaniemi cemetery.
Once there, they lit candles in honor of soldiers who have died fighting for Finland.
Reports state about 3,000 people took part in the procession.
The chairman of far-right group 612.fi, Jari-Pekka Marin, told Ruptly at the march: "We are part of the European Union, we are not independent as everybody knows."
In another far-right protest, some 200 members of the far-right Nordic Resistance Movement (NRM) took to the streets, with one of the protesters telling the video agency: "Islam is bad and we don't want it. The Koran is wrong."
He went on to brand all Muslims "mass murderers" and "pedophiles," concluding that "we don't want them here."
On the same day, about 3,000 protesters marched against racism in Helsinki, from the city's main railway station to Kaisaniemi park.
"We are against Nazis, because the Nordic defense movement is marching today on Finnish Independence Day, and we are against Nazis and fascism in Finland and all over the world," one of the protesters told Ruptly.
The counter-demonstration was organized by anti-fascist group Varisverkosto, the anarchist A-ryhmä, and the Helsinki youth wing of the Left Alliance.
There were about 10 protests in total, with police detaining seven people at various marches and demonstrations for small brawls.