China asks US to refuse visit by Taiwan president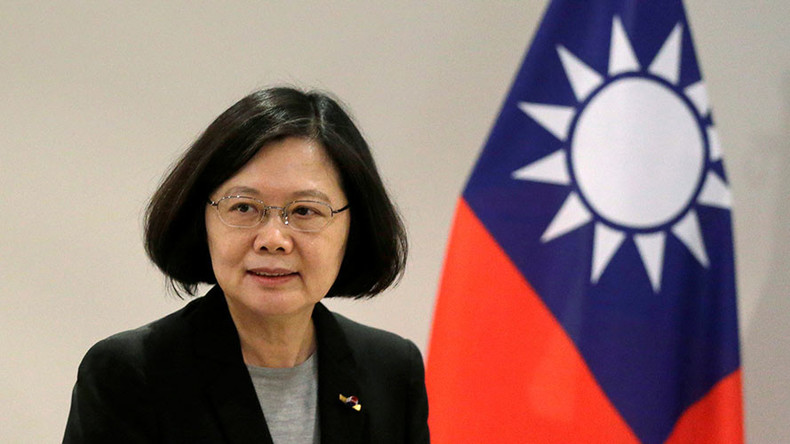 In the latest escalation after President-elect Donald Trump broke protocol with Taiwan, China is now asking Washington to deny Taiwanese President Tsai Ing-wen entry into the US prior to her upcoming Latin America tour.
Taiwan's new leader is scheduled to visit three countries in January – Guatemala, Nicaragua and El Salvador. There is speculation, however, that she will make a stopover in New York.
Although this has been denied by several Trump advisers, as well as Taiwan itself, news of the visit has become the latest lever China has tried to use to show its disappointment at what it believes to be warming relations between Taiwan and the US.
In a Tuesday statement to Reuters, Beijing says it has called on Washington to deny Tsai entry into the US en route to Latin America next month. The US visit is expected just ahead of Trump's inauguration on January 20, when he replaces outgoing President Barack Obama.
The US State Department appeared to reject the notion that China can dictate terms, and said Tsai's transit – if it is to take place – is based on "long-standing US practice, consistent with the unofficial nature of (US) relations with Taiwan."
China and Taiwan are undergoing a renewed strain in relations. Taiwan's first female president, elected in January, is opposed to a unified China, while Beijing continues to treat the island as one of its provinces. It also does not see Tsai as a president in any official capacity, and is unsettled at the prospect of her seeking independence for Taiwan, which has been under Chinese control since the end of World War Two.
The Chinese Foreign Ministry added in its statement that Tsai's reasons for visiting are "self-evident." It added that it hopes the US "does not allow her to visit, and does not send any wrong signals to 'Taiwan independence' forces.'"
US State Department spokesman Mark Toner continued to deny on Monday any knowledge that a planned visit by Tsai was happening, but did add that foreign leaders stopped over regularly.
Taiwan's Presidential Office likewise said that reports of a New York visit by Tsai were "excessive speculation" by the media.
When Trump and Tsai held a phone call to congratulate each other, they started an avalanche of criticism. Trump's running mate Mike Pence tried to limit the damage, but the president-elect then started to tweet out criticism at China for its apparent devaluation of the US dollar, and especially took issue with being criticized for making a phone call to Taiwan at a time when the US already sells it hundreds of millions in arms.
The Chinese responded with a scathing editorial in the communist-owned Global Times, where they accused the American president-elect of overestimating his country's power by angering the world's second-largest economy.
Many foreign policy experts looked at the situation as a paradigm shift in how the US conducts itself, especially with regard to its role as a stabilizing force in foreign disputes. Indeed, Trump's conversation with Tsai broke a 40-year silence – it was in 1979 that then US President Jimmy Carter gave Taiwan the cold shoulder in favor of a diplomatic relationship with China.
Following the fateful call, Trump and Tsai also chimed in to explain – with Trump tweeting the following.
The President of Taiwan CALLED ME today to wish me congratulations on winning the Presidency. Thank you!

— Donald J. Trump (@realDonaldTrump) 3 декабря 2016 г.
And Tsai herself tried to downplay the phone call when she addressed American reporters on Tuesday.
"I do not foresee major policy shifts in the near future because we all see the value of stability in the region," she told reporters.
Pence, who is now vice president-elect, repeated on Tuesday to Fox News his position that Trump does not regret the call, and that "the president-elect was fully aware of the one-China policy" – a position the US upholds, which precludes granting Taiwan independence.
"We have a unique relationship with that country that's been defined over the decades since we've reopened relations with the People's Republic of China but I think he think he felt it would be rude not to take the call."