Fiery clashes between military police and protesters erupt in Brazil (VIDEOS)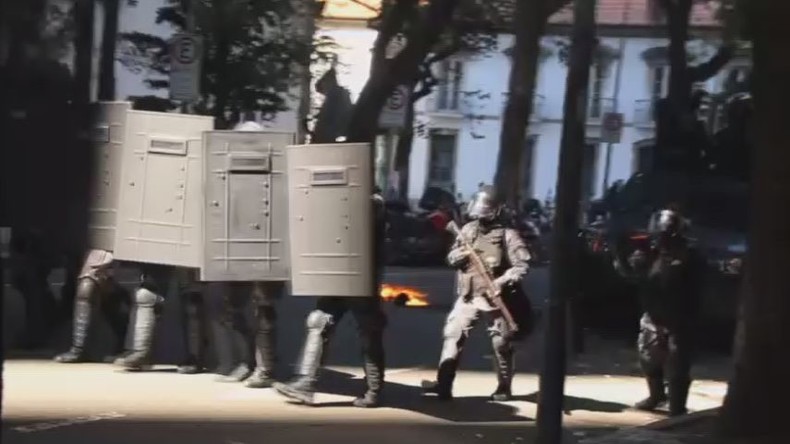 Violent clashes between Brazilian military police and unpaid civil servants erupted in front of the legislative building in Rio de Janeiro, while legislators discussed new budget cuts. Several people from both sides were reportedly injured.
A crowd of some 300 protesters, predominantly civil servants, gathered outside Rio de Janeiro's legislative assembly (ALERJ) on Tuesday, while lawmakers voted on new austerity measures to mend gaping holes in the city's budget.
Protests quickly spiralled out of control, as participants tried to push down a fence surrounding the building and erect makeshift barricades. As a result, military police arrived at the scene.
Police officers fired less lethal weaponry and used tear gas and stun grenades to disperse the crowd, while protesters threw rocks at police. Police officers reportedly entered a nearby church and fired at the crowd from inside. Local church authorities called it an "invasion" and promised to investigate the incident.
Several protesters, as well as police officers, were reportedly injured during the clashes.
"As you can see here in Brazil, we have thieves coming and going in government, in the state government, in the federal government, in congress," a spokesman for the Oil Workers' Union in Rio, Ronaldo Moreno, told Associated Press. "They only vote against the people. They don't want to get rid of their luxuries."
Brazil's economic recession has hit Rio de Janeiro heavily, leading the federal government to freeze the state's bank accounts for its vast debt. Many public servants, including ambulance workers and police, have not been paid for months. This led Governor Pezao to impose drastic austerity measures, which critics said would increase transportation and utilities costs, as well as cuts to wages, pensions, social programs and subsidies for the poor.
You can share this story on social media: