Berlin head of Polish culture institute fired for promoting 'too much Jewish content'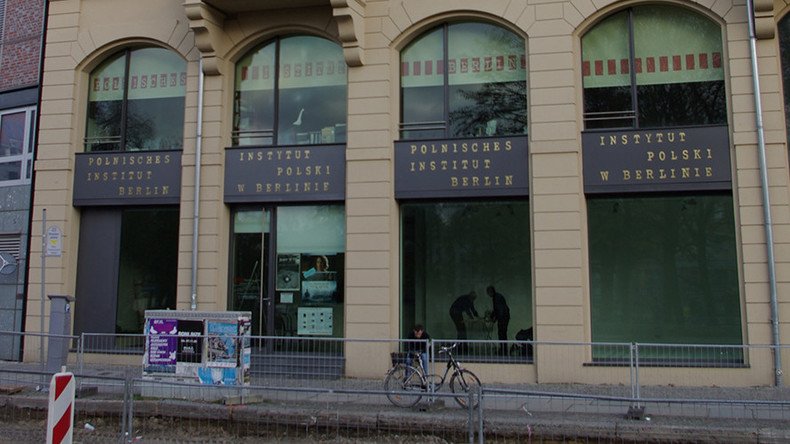 The director of the Polish cultural institute in Berlin, Katarzyna Wielga-Skolimowska, has been fired by Poland's Foreign Ministry because she allegedly promoted too much "unwanted content", particularly concerning Polish-Jewish relations.
Wielga-Skolimowska was "dismissed immediately" last week, the institute's spokesman, Marcin Zastrożny, confirmed to Germany's TAZ daily on December 2. According to Der Tagesspiegel, she was fired without any explanation or prior notice.
She was also ordered to leave the office immediately and depart her flat in Berlin at the end of December. She was not allowed to say goodbye to her subordinates in the institute, Der Tagesspiegel reported.
According to German media, it was the institute's cultural program that led to her dismissal as it contradicted the cultural policy of the Polish government ruled by the national-conservative Law and Justice (PiS) party that came to power in 2015.
The Polish ambassador to Germany, Andrzej Przylebski, sharply criticized Wielga-Skolimowska in an internal report in October, which was seen by dpa news agency. The dpa report stated that he particularly rebuked the former head of the Polish cultural institute in Berlin for "excessively covering ... topic[s] related to Polish-Jewish relations" and inviting what was called "unwanted" guests to events staged by the institute.
The issue of Polish-Jewish relations should not be promoted "especially in Germany, which should not take the role of mediator" in this field, the report, written by Przylebski said, adding that the institute should instead emphasize the importance of dialog between Poland and Ukraine or Poland and Lithuania, as reported by dpa.
"A blind imitation of nihilist and hedonist trends leads to nothing good in civilizational sense," the report added, referring to Wielga-Skolimowska's work.
The ministry already expressed its discontent with Wielga-Skolimowska's work for similar reasons. In early 2016, the Foreign Ministry negatively assessed the institute's performance and appointed conservative Malgorzata Bochwic-Ivanovska to deputy head.
In April 2016, Poland's Culture Minister, Piotr Glinski, called for "an end to the culture of shame" in relation to the Polish role in Holocaust and WWII. At the time, the Polish cultural institute in Berlin showed the Academy-Award winning film 'Ida' (2015) that tells the story of a young woman living in 1960s Poland, who found out that she was Jewish and her parents had been murdered by their Polish neighbors during WWII.
At the same time, the Polish Foreign Ministry insisted on showing another Polish film – a propaganda movie 'Smolensk', which suggested that the Polish presidential plane crash in Russia in 2010, which claimed the lives of all passengers aboard, was an act of terrorism orchestrated by Russia.
No German cinema agreed to show the movie, even though it was actively promoted by the institute's deputy head, Bochwic-Ivanovska.
'One cannot find better person to promote Polish culture' – German artists
The decision of the Polish Foreign Ministry has caused a wave of criticism and indignation among German artists and cultural figures and even prompted them to write an open letter to Polish authorities.
The artists expressed their "embarrassment and irritation" over what they called "an unjustified and inexplicable decision" in a letter to the Polish ambassador in Berlin and Polish Foreign Minister Witold Waszczykowski.
The initiative was put forward by Cilly Kugelmann, the program director of the Jewish Museum in Berlin and supported by the head of the Berliner Festspiele arts center, Thomas Oberender, the director of the Maxim-Gorki-Theater, Shermin Langhoff and the head of a museum of modern art, photography and architecture in Berlin, Thomas Koehler, who signed the letter.
"One could not possibly find a better person to promote Polish culture," the letter said, as cited by Der Tagesspiegel. "She [Wielga-Skolimowska] has an exceptional talent for communication," Kugelmann told Der Tagesspiegel, adding that the former Polish cultural institute's director promoted "an image of a young intelligent country that is ready to face its history."
"So far, Poland's culture was presented in the best possible way at different levels [in Germany]," Marcin Piekoszewski, who works for the German-Polish book store 'Buchbund', told TAZ, commenting on Wielga-Skolimowska's work.
Wielga-Skolimowska worked as the head of Berlin's Polish cultural institute for three years from 2013. Her contract was due to expire only in summer 2017.
She established a cultural exchange program between Poland and Germany, particularly in cooperation with the German Goethe-Institute promoting German culture in foreign countries.
She also created a forum for German and Polish artists, where they could discuss the modern art, architecture, music and journalism, TAZ reported.
The former director of Berlin's Polish cultural institute also promoted the 'Film Polska' film festival in Berlin.
However, she was not the only one reportedly fired due to the inconsistency of her ideas with the Polish government's policy.
According to Poland's Gazeta Wyborcza daily, 13 out of 24 directors of Polish cultural institutes across Europe were fired this summer.
Many of them were also criticized for inviting "unwanted" guests to their events, such as Austrian author and journalist Martin Pollack, who criticized the PiS party, or Olga Tokarczuk, a Polish writer and recipient of the German-Polish International Bridge Prize, who was accused of "tarnishing the good name of the Polish nation."
You can share this story on social media: