More than 52% of East Aleppo now under control of Syrian army – Russian MoD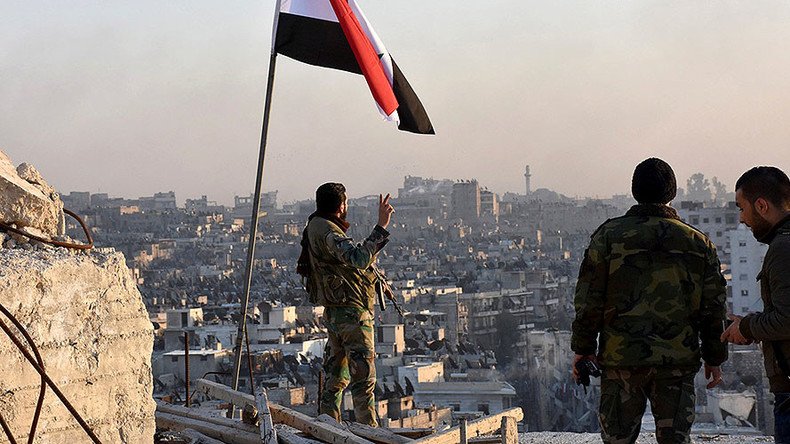 Syrian governmental forces have taken control of 52 percent of eastern Aleppo and are now in control of over 30 of the city's neighborhoods, the Russian Defense Ministry says.
The ministry went on to say that the Syrian army is still successfully advancing in eastern Aleppo, seized a neighborhood occupying three square kilometers over the past 24 hours.
In late November, the ministry announced that the Russian-backed Syrian operation had made a breakthrough in its push to retake eastern Aleppo, as Syrian troops liberated 80,000 people living in neighborhoods in the eastern part of the city.
READ MORE: Breakthrough in Aleppo saves 80,000 civilians, say Russian military

At that time, the Russian Center for Reconciliation reported that 12 neighborhoods comprising roughly 40 percent of the territory previously controlled by the militants had been cleared.
"Over the past few days, well-planned and careful action by the Syrian troops has resulted in a radical breakthrough. Half of the territory previously held by the militants in eastern Aleppo has been, de facto, liberated," Defense Ministry spokesman Major General Igor Konashenkov said on November 29.
The next day, the Syrian army retook Castello Road, viewed by much of the media as the "only way" to deliver humanitarian aid to Aleppo.
Meanwhile, Moscow has expressed hope that the situation in Aleppo will be resolved by the end of the year.
READ MORE: Russia hopes Syria's Aleppo situation can be resolved by end of 2016

"We are hoping for this, yes, indeed. We need to force these terrorists out the same way as they need to be forced out of Mosul and Raqqa. It's a common task," Russian Deputy Foreign Minister Mikhail Bogdanov said, as cited by RIA news agency.
Russia's Defense Ministry has criticized Western countries for their reluctance to provide humanitarian aid to the areas recently liberated by the Syrian army, which are inhabited by about 90,000 residents.
"While Western countries and representatives of various international organizations were vocal about the need to make humanitarian deliveries to eastern Aleppo possible when it was fully under rebel control, they seem to have lost interest in helping the stricken residents now that they've been liberated by government forces," Konashenkov said on November 30.
"Apparently, this aid was intended for some other people living in the neighborhoods of eastern Aleppo," he added, implying that it had really been meant for the terrorists and rebel militants fighting the Syrian government there.
His words were echoed by Foreign Ministry spokesperson Maria Zakharova, who said that "most of the humanitarian aid is going to areas controlled by the rebels, including Al-Nusra terrorists, who use it to their advantage."
You can share this story on social media: