German Defense Minister calls for pupils without degrees & EU citizens in army – report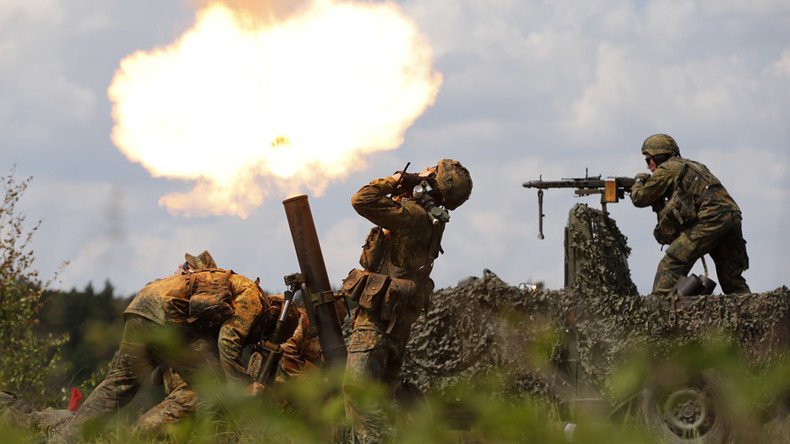 German Defense Minister Ursula von der Leyen has called for those who fail to graduate from school to join the ranks of the military as the army looks to boost personnel, media reports. Enlisting EU citizens also appears to be on the table.
Both measures were voiced by in an internal presentation by Von der Leyen on Thursday, Handelsblatt says.
Elaborating ways to fill the gaps in the ranks of the military (Bundeswehr), which is set to get an enlargement in the coming years, was one of the main points of the meeting.
"The minister increasingly wants to attract more school leavers without a diploma for the Bundeswehr," Handelsblatt writes. According to the plan, those students will get an ability to graduate while already fulfilling their military service.
"We find that it's important to give everyone a chance," von der Leyen stressed as quoted by the news outlet.
Another measure vowed by the Defense Minister is enlisting EU citizens in the Bundeswehr. "In exceptional cases, we are also ready to grant EU citizens very special positions that we cannot cover otherwise," she said.
After getting rid of the compulsory military service in 2011, the Bundeswehr was reduced to a number of almost 177,000. Yet in July the German army introduced its new roadmap to the national parliament, stating that the country has "a responsibility to help shape the world order."
While in May, Ursula von der Leyen announced the country's first army expansion since the Cold War. The plan envisions an enlargement of some 7,000 new troops over the period of seven years. In addition, the army wants approximately 4,400 new civilian personnel being hired until then.
The new roadmap also included plans to allow EU citizens serve in the German military, yet causing quite an opposition from the army itself.
The chief of the army's Union (Bundeswehrverband) André Wustner said in June that the German citizenship "used to be and remains elementary" for the mutual loyalty between the state and the soldier.
One of the latest attempts by the Bundeswehr to attract more personnel saw a launch of a reality show called "The recruits" on November 1. The five-minute clips published every day on the army's YouTube channel are focusing on the daily life of fresh servicemen and servicewomen.
Apart from a positive reaction, the idea has also drawn serious criticism from politicians and activists, saying that the show actually "distorted the reality," while presenting the Bundeswehr as an "adventure playground" and downplaying the risks for the soldiers.
You can share this story on social media: