Turkish coast guard rescues Russian ship after it runs aground near Istanbul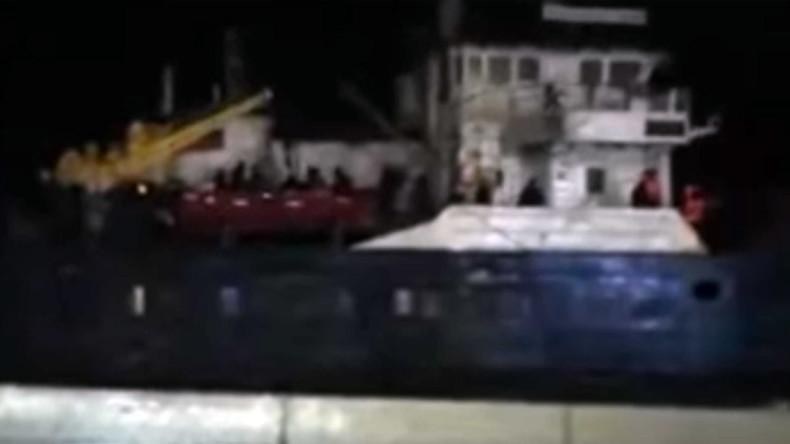 All 14 crew members of a dry cargo ship that went ashore near Istanbul on Friday evening have been rescued and taken to the hospital for precautionary checks, Turkish media report.
The Volgodon-203 ship was reportedly heading to the Black Sea after unloading its cargo in the Turkish port of Izmir when it was caught in strong winds and ran aground near Istanbul's Kartal district at about 9 p.m. local time, Haber 7 channel reported.
Coast guard, marine police, medical and fire brigades took part in the rescue efforts. Russia's consulate general in Istanbul confirmed there was no threat to the crew members' health.
"The Russian ship Volgodon-203 hit the ground at 21:00 in the Kartal area, local time. Upon consultation with the coastguard concerning the incident, we got the knowledge that there was no danger to the crew and that the crew is receiving the necessary help," the consulate stated.
The rescue teams succeeded in removing the crew from the desk only in a second attempt. The first attempt failed as the staircase extended to the ship did not reach it due the howling southwestern wind. After that the coast safety ground forces attached ropes to the stranded vessel to carry it ashore.
The strong southwestern wind typical for the Istanbul area is called Lodos. Its name is believed to be derived from a Greek word "Notus," used to describe the ancient Greek good of the south wind, one of the four wind Gods in Greek mythology.
The Russian ship was not the only one vessel that suffered from Lodos. Another dry cargo ship hit the ground, close to the Russian ship. The crew was successfully rescued.