Father strangles daughter & nephew in Pakistan honor killing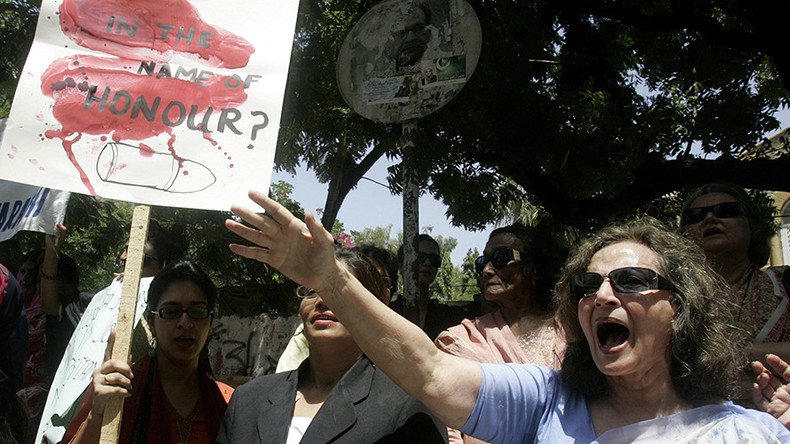 Two teenage cousins have been killed in an alleged honor killing in the village of Rasool Bakhsh Wessar in Pakistan's Sindh province. The father of one of the two teens strangled both of them to death.
"A teenage girl identified as Gul Bano, 16, and her cousin Dur Muhammad, 18, son of Hakim Wessar, were killed over the pretext of honor killing by the father of the girl, Mushtaque Wessar, by beating them with baton and later strangling both to death," Sadar Station Police Officer Ayaz Pathan said.
Mushtaque Wessar suspected his daughter and her cousin had an illicit relationship, the Express Tribune reports. After seeing the two talking early Tuesday morning, he attacked them with a wooden stick before strangling them and fleeing the scene.
READ MORE: Pakistani mother tortured & hanged from tree in 'honor killing'

The bodies were taken to District Headquarters Hospital in Jacobabad for an autopsy. Wessar was arrested for the crime.
A First Information Report (FIR) against Wessar was registered by the SHO Ayaz Pathan on behalf of the state.
In July, parliament unanimously approved two bills to tackle honor killings and remove the loophole which allows a guilty party to avoid conviction by being forgiven by other family members. The move came following the honor killing of celebrity Qandeel Baloch in July.
The deaths are just two in a number of reported honor killings to have taken place in Pakistan's Sindh region on Tuesday.
The Nation reports a man shot his 18-year-old niece Aneela Lashari and his 19-year-old nephew Jafar Lashari in an honor killing in Zahid Bambhar village in Khairpur Mirs. The man has also been arrested.
Meanwhile, in Qambar Shahdadkot on Tuesday, a woman identified as Zulekha and a man called Mohommad Yaqub Chandio were shot by her husband.
"Police arrested the accused, who confessed to have killed both his wife and her alleged partner 'for honor'," a Qambar police official told Dawn.
According to the Human Rights Commission of Pakistan, there were 987 cases of 'honor crimes' during 2015, which resulted in the deaths of 1,096 females and 88 males, 170 of whom were minors.
You can share this story on social media: