11 female students & adult die in Turkey as massive fire engulfs boarding school dormitory (VIDEO)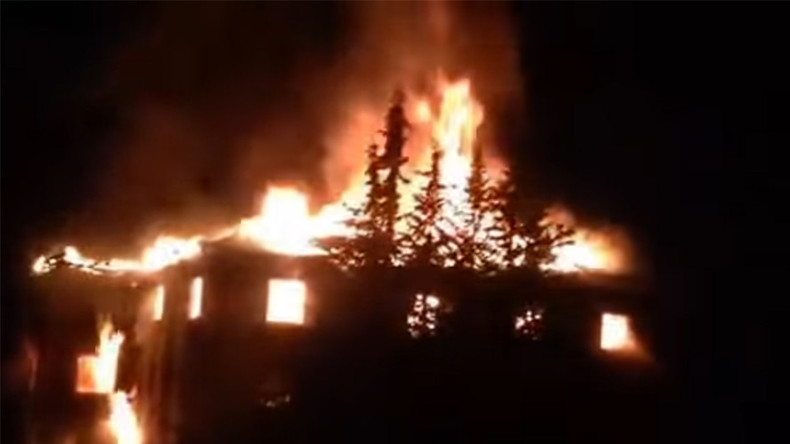 Fire ravaged through a three-story dormitory in the Turkish southern province of Adana on Tuesday, killing 12 people, mostly girls aged 10 to 16, and injuring over two dozen others. The suspected cause of the tragedy is believed to be a short circuit.
Twenty-two students were evacuated from the burning building and transported to local hospitals for treatment, provincial governor Mahmut Demirtas said, Anadolu agency reported.
Some of the girls attempted to flee the dormitory by jumping out of the windows in panic and were admitted to the hospital with cut wounds inflicted by fractured glass. Others are suffering from smoke inhalation, with none of the injuries believed to be life-threatening.
Apart from the 11 deceased middle- or high-school students, an adult woman identified as a school carer fell victim to the blaze.
While the source of the fire, an electric meter, is believed to be located on the ground floor, the fire ascended quickly through wooden panels and carpets, trapping the girls on the second and third floors. As result of the fire, the roof almost completely collapsed and the wooden floors burned down, CNN Turk reported.
While the private girls-only dormitory, located in Adana's Aladag district, is able to accommodate 54 students, it housed only 34 occupants at the time of the tragedy.
The fire ravaged the building for about three hours before it was contained by fire crews, CNN Turk reported.
Gruesome photos and videos depicting the fire have emerged on social media.
Turkish President Recep Tayyip Erdogan was made aware of the incident and contacted Demitras, expressing his condolences to the victims and their families. An investigation has been launched into the causes of the fire and will be overseen by the Interior Ministry and Education Ministry.
You can share this story on social media: