Most Germans believe EU is 'heading in wrong direction' – survey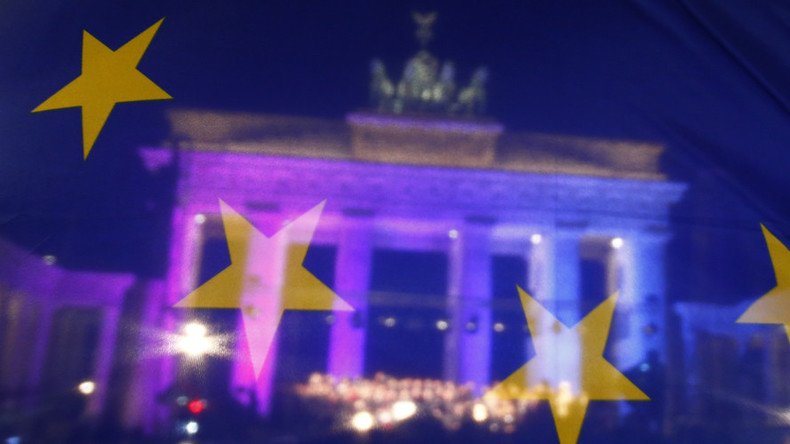 Almost two-thirds of Germans are dissatisfied with the current situation in the European Union and want to see changes in the bloc, while about half of them even want to hold a referendum on Germany's EU membership, a recent survey shows.
About 62 percent of German citizens believe that the European Union "is heading in the wrong direction," a survey conducted by the TNS Infratest Politikforschung market research and analysis group says.
The survey also shows that 67 percent of Germans want the EU to change its political course.
When it comes to what Germans would specifically like to be changed about the EU, an overwhelming majority (about 96 percent) want the bloc to be "more transparent and closer to the people."
Only 39 percent of Germans see Germany's EU membership as a strictly positive thing, while almost half tend to believe that its membership has both significant positive and negative aspects. As many as 42 percent of German citizens indicated they would like to hold a referendum on Germany's EU membership.
Most Germans also see themselves primarily as members of the German nation, and only then as Europeans. However, only one in four fears that growing integration within the EU could threaten their national identity.
Despite the perceived shortcomings of the EU, only a quarter of Germans welcome the growing influence of the Eurosceptic movements. Almost 70 percent of them also admit that Brexit weakened the solidarity among EU members, and about 60 percent say that the union should take a tough stance in negotiations with the UK over its future exit from the bloc.
At the same time, 95 percent of respondents say they want more cooperation and rapprochement between EU members.
Almost 65 percent believe that members' defense policies should be defined at the EU level, and over half support the idea of a joint European army. Still, most Germans see the EU as a "peace project."
Refugee crisis is still the greatest challenge
The current refugee crisis is still considered by Germans to be the biggest modern challenge.
Almost half of the respondents put it at the top of the list of challenges Germany faces. Most Germans believe that a solution can be found only at the EU level – even if it entails higher expenses, and most (73 percent) think the rest of the EU has abandoned Germany to deal with the crisis on its own. An equal number of Germans say that countries which refuse to accept refugees or take only a small number of them should not receive EU subsidies.
Meanwhile, about 60 percent of the respondents also believe that Germany should strengthen its leading role within the EU and promote its interests within the bloc, even if they contradict the positions of other members.
The EU's external borders should be better protected, 70 percent of respondents think, while only 21 percent believe they should be completely closed.
Just a third of Germans trust the refugee resettlement deal with Turkey and its ability to deal with the refugee crisis.
More cooperation with Russia
The US and France are Germany's top foreign policy partners, 60 percent of respondents said. Russia is third with only 14 percent, but 65 percent think this should change and cooperation with Russia should increase, while 58 percent think the same about the US.
Russia was also featured in the list of Germany's foreign policy challenges, topping it according to 16 percent of those polled – up from nine percent last year.
The survey took place between October 4 and 15, 2016, with 1,001 respondents. It was conducted for Koerber Stiftung, a German NGO which provides a platform for political discussions and runs operational projects on social and political issues.
You can share this story on social media: