Salafist group 'We Love Muhammad' hands out bios of prophet in German cities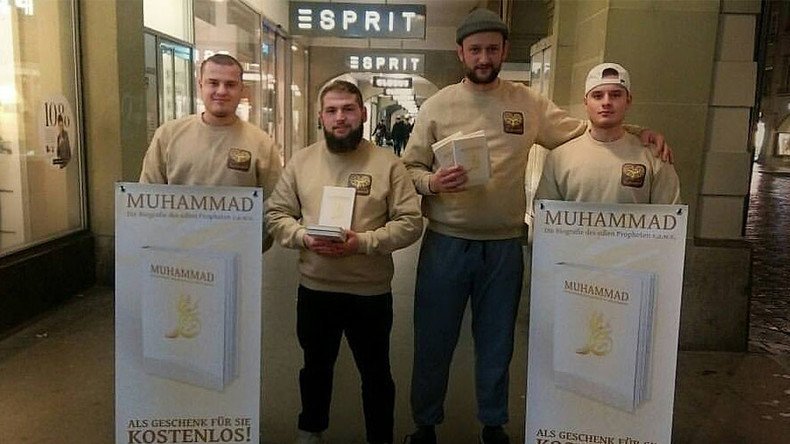 Salafist radicals have launched a campaign to distribute free biographies of the Prophet Muhammad in several German cities, but a similar group has already been banned by security services nationwide for encouraging Muslims to join Islamic State.
The distribution drive began last weekend in large Germany cities in the state of North Rhine-Westphalia, including Cologne, Munster and Iserlohn, Die Zeit reported on Tuesday.
Members of the Salafist radical group 'We Love Muhammad' were seen distributing free copies of the Islamic prophet's biography in pedestrian zones in those cities.
"A free gift for you," read the Islamists' posters, according to Die Zeit.
The German Interior Ministry has already banned the radical Islamist group 'Die wahre Religion' ('The True Religion') group from evangelizing Salafist ideology, subjecting it to a large-scale police investigation in 60 German cities on November 15, in which some 190 mosques, offices, and apartments associated with 'The True Religion' were reportedly searched in 10 federal states.
According to Die Zeit, the group first came into the spotlight earlier this year when it launched a massive initiative to hand out free copies of the Koran in 15 countries, including Germany, France, the UK, Sweden, Austria, and Brazil.
The Islamist campaign, called 'Lies!', or 'Read!', which aimed to get a translated copy of the sacred Muslim book "to every household," reportedly distributed roughly 3.5 million copies by summer of 2016.
'The True Religion,' which was set up in Cologne in 2005, also ran so-called 'Islam information desks' in numerous German cities so that those with Islamist leanings could keep in touch with the group. It had nearly 600 members in Germany alone, Die Zeit said.
Commenting on the nationwide ban of 'The True Religion' last week, Thomas de Maiziere, Germany's interior minister, said that the group had referenced Islamic State (IS, formerly ISIS/ISIL) in some of its materials. Its website contained videos propagating Islamism, which, in turn, may have encouraged 140 German Muslims to travel to Syria and Iraq to join IS.
Any organization succeeding or spinning off from 'The True Religion' will also be covered by the ban and closely monitored by secret security services, the minister stressed.
The nationwide ban does not extend to distributing copies of the Koran or advertising Islam, de Maziere noted. "Forbidden is the misuse of the religion by persons who propagate extremist ideologies and support terrorist organizations under the pretext of raising awareness of Islam," he said.
Islamism and the role of Islam in German society have become hot issues since last year when a massive refugee crisis ravaged Europe. According to Amnesty International, some 1.1 million asylum seekers, mostly from Muslim countries, arrived in Germany in 2015, with sizeable numbers coming this year as well.
While the government and some in German society believe the country can successfully integrate the newcomers, others, including the far-right Alternative for Germany (AfD) party and more conservative voters insist that Islam will undermine the country's identity.
German secret services have confirmed that Islamists do, in fact, pose a terrorist threat, citing hundreds of tip-offs they have received about IS operatives that have infiltrated the country.
Moderates, in turn, advocate creating a German version of Islam that would incorporate values of democratic pluralism and become immune from radical teachings.
You can share this story on social media: