Cologne plans helicopters & mounted police to prevent mass sex assaults on NYE – report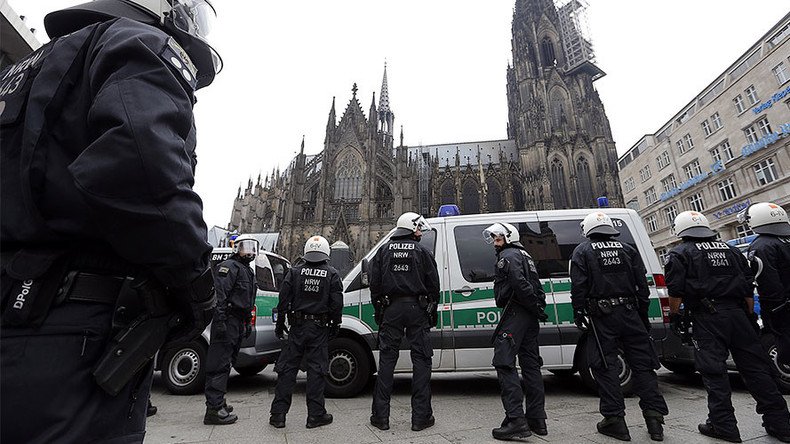 Cologne authorities may deploy helicopters, better CCTV cameras and mounted police during the upcoming New Year celebrations in order to prevent a repeat of the mass sexual assaults that rocked the city on New Year's Eve last year.
The report is the end result of Project Silvester (the German name for New Year's Eve celebrations), where a group of experts and federal police, under control of Federal Criminal Police Office, analyzed what happened in Cologne during last year's festivities.
The document will be discussed at a conference of interior ministries on Tuesday. A copy of the 60-page document was obtained by Cologne's Express newspaper.
The report proposes the deployment of helicopters and mounted police "for regular assessment of the situation" during celebrations. Limiting the number of visitors in certain areas during New Year events can also help prevent crimes, it adds.
"Due to the high number of visitors, possible [criminal] activities could not be detected and stopped in time. In addition, there was no way for the victims to escape the situation," it says about the events of last year.
Better video surveillance and better light sources should also be a must, according to the paper.
"Many camera images from and around Cologne Central Train Station had poor quality to identify perpetrators."
The report proposes the detention of "intoxicated or aggressive groups of persons" and the introduction of more effective registration of migrants. To improve data sharing with other countries, the paper recommends deploying Europol 'Mobile Offices', which could be directly connected to police deployment areas.
Authorities should also deploy officers specially trained to handle sexual assault victims, in particular women, "in order to carry out qualified questioning and secure objective evidence," the report states.
The document also calls upon the city authorities to arrange for better integration of migrants into the social fabric of Germany.
Cologne needs to "improve the basic conditions which result in social-structure disadvantages and frustrations as a result of lack of personal exchange, financial participation, recognition and barriers to getting to know women," it adds.
Since January 2016, the issue of asylum seekers reportedly sexually harassing local women has been gathering momentum. Many of the victims, apart from being sexually harassed, said they had been robbed.
The report revealed the recent figures on the crimes committed on New Year's Eve in Germany: there were cases of 881 sexual offences involving over 1,231 women. Apart from Cologne, similar incidents took place in Düsseldorf, Hamburg, Frankfurt and Stuttgart. The victims were almost all young women between 18 and 24 years.
According to the document, almost all the suspects involved in the Cologne New Year attacks came from Algeria, Morocco and Iraq.
In June, two men were found guilty of sexual assault last New Year's Eve in Cologne and were given probationary sentences. The court said it was evident that one man, named as Hussein A., kissed a young woman against her will. The other man, an Algerian national, was part of a group that sexually harassed women. German media reported that two more men were found guilty of sexual assault charges in Düsseldorf and Nürtingen.
You can share this story on social media: