'Know your limits!' Erdogan reminds EU Parliament who's in charge of Turkey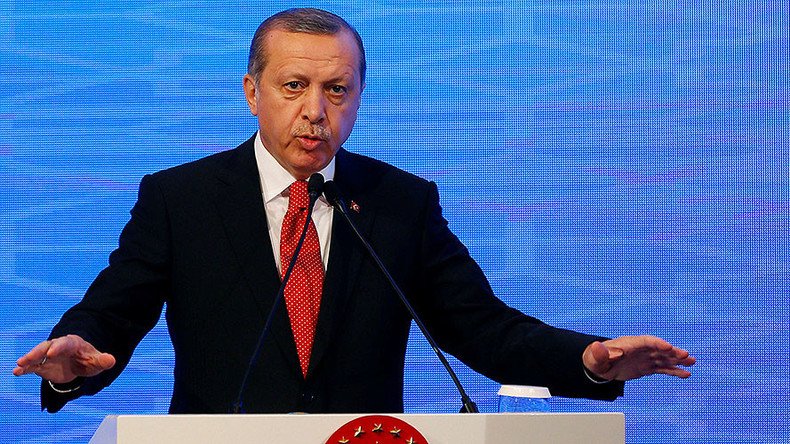 The EU is in no position to dictate to Turkey when it comes to fighting terrorism, Turkish President Recep Tayyip Erdogan said after EU lawmakers voted to call for halting membership talks with Ankara.
On Thursday, the EU Parliament passed a non-binding motion urging a temporary halt to membership talks with Turkey, citing Ankara's crackdown after July's failed coup. European lawmakers strongly condemned the "disproportionate repressive measures" following the failed coup attempt, which "violate basic rights and freedoms protected by the Turkish Constitution."
In the second series of remarks following the EU's move, Erdogan once again called on Brussels to know its "limits."
"The government and parliament can extend the length of state of emergency. What's it to you? Does the European Parliament rule this country or the government [of Turkey]? Know your limits! Those days are over," Erdogan said, as cited by Anadolu new agency.
"Saying 'don't fight terrorism' to a country who fights against terror every day is to tell them to put up the shutters," the president noted in Istanbul on Saturday.
"Are you [European Parliament] inviting terrorist groups?" he wondered. Turkey would continue to "go on its way no matter what they say," following the goals laid out by the government for 2023, the president added.
In October, Turkey extended its state of emergency for another three months, following the failed coup attempt on July 15, which left nearly 300 people dead. In the wake of the coup, Turkish authorities have arrested tens of thousands in the military, judiciary, academia, and the media.
The emergency powers allow Erdogan to rule by decree and make decisions that cannot be overturned by the Constitutional Court.
This is the second time Erdogan has lashed out against the EU Parliament's vote. In his initial remarks, he warned that his government will open its border gates to allow migrants to flow into Europe if it is pushed any further by the EU.
"We are the ones who feed 3-3.5 million refugees in this country. You have betrayed your promises," Erdogan told the EU on Friday.
"If you go any further those border gates will be opened." Currently, the EU-Turkish deal signed in March hangs by a thread. Initially, Turkey agreed to the deal in exchange for billions of euros in refugee assistance from the EU, and accelerated talks on becoming a member of the bloc.
As tensions rise, the head of the European Commission, Jean-Claude Juncker, softened the tone towards Turkey on Saturday. "Turkey is an important partner not only for the migration crisis. This aspect is obvious. But because it houses on its territory over three million migrants and refugees which Europe for its part doesn't do," Juncker said in an interview with Euronews.
You can share this story on social media: