Afghan authorities twice warned US military about possible insider attack at Bagram – officials
Published time: 24 Nov, 2016 12:21
Edited time: 25 Nov, 2016 10:13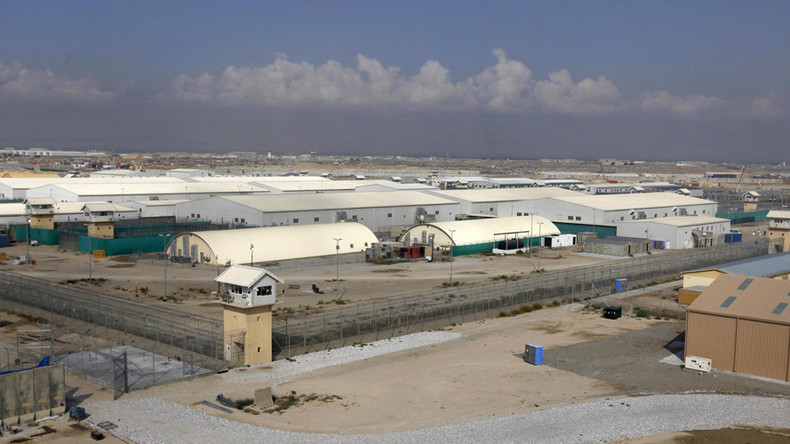 Afghan authorities warned the US military at least twice that a Bagram airbase worker could be planning an attack, officials told Reuters. The warnings were made in the year prior to an assault which killed four people and injured at least 15 others.
In addition to the warnings, Afghan government and security officials said they also asked Western forces to share information about local employees at the NATO airbase, in order to check for "suspicious people among them." However, they were refused.
When asked about the request for information sharing, NATO spokesman Captain William Salvin said the alliance's forces "routinely partner with ANDSF [Afghan National Defense and Security Forces] on all elements of security."
"We maintain a strong, day-to-day working relationship with our Afghan counterparts but due to operational security we do not get into specifics about what is shared," he said.
However, the fatal insider attack – which killed two US soldiers and two contractors earlier this month – has prompted the US military to more closely share information with Afghan officials, according to Wahid Sediqqi, the governor's spokesman for Parwan province, where the base is located.
"After this attack, American forces have agreed to share that information about their Afghan workers with us," Sediqqi said.
The November 12 attack was committed by suicide bomber Qari Naib, who was later discovered to have been using a fake name, Qari Enayat, while at work.
Authorities eventually discovered that, Naib had been a member of the Taliban who underwent a government de-radicalization program, and had worked inside the base for "a long time."
Sediqqi said Naib gained the trust of those working at the base, and "based on that trust he carried out this attack."
Naib first became acquainted with the base in 2012, after signing up for a reintegration program which is aimed at helping those seeking to turn their backs on militant groups. He enrolled in a nine-month course at the Korean Vocational Training Center inside the base, learning English, computer skills, and how to fix cars. He was offered a job at the base upon completion of the course.
However, despite the belief that Naib had left the Taliban behind in favor of a job at the base, the militant group claimed responsibility for the bombing at Bagram, saying the assailant was one of its fighters.
It wasn't the first time that Naib had been implicated in an attack on the base. Five years ago, he had been a suspect in a rocket attack at Bagram and went into hiding for days to avoid arrest, according to Afghan security officials. However, authorities never found any evidence linking him to the crime.
The attack launched by Naib has left some wondering about the effectiveness of reintegration programs in Afghanistan, which promise jobs and education for ex-militants.
Although around 11,000 militants have joined such schemes, but it is unclear how many remain peaceful. A US government watchdog recently said the program has not led to a "significant diminishment of the military capacity of armed opposition," Reuters reported.
The attack has also led to the questioning of Western forces' screening of local workers.
Bagram has been at a near-lockdown since the attack, with only 200 of an estimated 3,000 Afghan employees so far being allowed to return to work, according to police.
According to Afghan journalist Bilal Sarwary, what happened was a "huge intelligence failure" on both sides.
"I was able to speak to local officials in the district of Bagram. They said that the suicide attacker was known as a former Taliban fighter, that he was re-integrated, that he was under-age at the time," Sarwary told RT. "And his house is less than 500 meters away from Bagram, so the real question one has to ask [was] what sort of information the Americans had about him and his family? Did they consult local elders? Because they have a very strong relationship with certain local strongmen in the district of Bagram and elsewhere in the country."
"One can assume that Americans would be reluctant to pass on information about the Afghans working inside bases to the Afghan government because there is infiltration inside the Afghan national security forces as well."
"In this case, plain and simple, this is a huge intelligence failure both on the part of the Afghan government and the Americans."