Chaos in Mosul as locals scramble to get food from aid trucks (VIDEOS)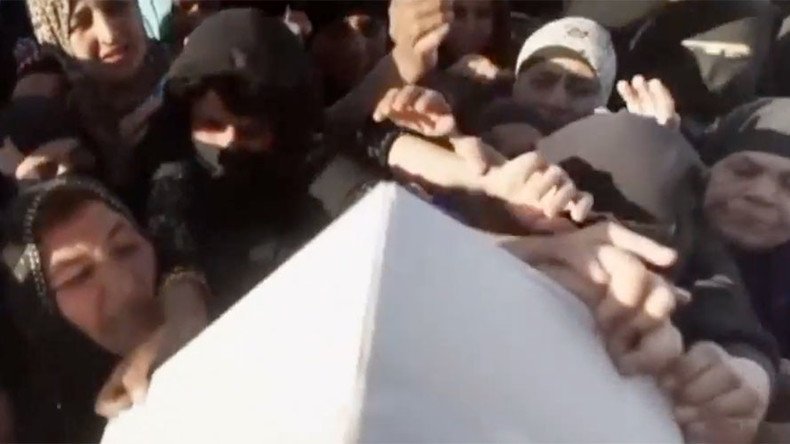 Footage from Ruptly shows hundreds of desperate and starving Iraqi residents pushing and shoving each other as emergency food aid is handed out of a truck in the northern city of Mosul.
Half a dozen trucks sent by the Iraqi government took food to the residents of areas of Mosul that had recently been liberated from the Islamic State (IS, formerly ISIS/ISIL). The trucks arrived on Sunday, accompanied by Iraqi Special Operations Forces (ISOF). However, it seems that in at least one area they were unable to control the hungry crowd. Members jostled with one another in a frantic attempt to get their hands on something to eat. Men, women and children pleaded with the aid workers and pushed and pulled and even climbed on top of one another, trying to wrestle a food parcel for themselves.
READ MORE: ISIS executed at least 300 policemen in Iraq, buried in mass grave – Human Rights Watch

As the struggle got more and more out-of-hand the workers decided to drive off, only to be pursued by the ravenous crowd. A number of the more athletic locals managed to catch up and jump on board before the truck drew to a stop again, whereupon more people descended upon the vehicle and began raiding supplies.
Another video shows a large crowd gathering around a small pile of aid boxes. Iraqi soldiers and security forces tried to organize the crowd and distribute the aid in an orderly fashion. However, the aid stockpile was obviously not sufficient for a crowd that big, and the ravenous people became edgy as supplies were distributed. Soldiers fired into the air a couple of times, trying to drive the crowd away from the stockpile. The desperate people, however, hesitated only for a moment after the warning shots were fired, and then proceeded to storm the pile. The crowd promptly dispersed after the supplies all vanished.
Similar scenes were captured at other aid distribution sites. The footage showed aid workers throwing crates and even single food packages out of a truck into an angry crowd. Desperate people swarmed around the trucks, wrestling aid workers, security personnel and one other in an attempt to get a package of something to eat.
Afterwards, some locals voiced their displeasure.
"The people are miserable, they are so tired. It can't go on this way," Mosul resident Fethi Mahmud Abdulla told AP. "They should keep the line and be organized. People are tired, so tired. Some of them take aid five or seven times. This is not fair."
But others were more sympathetic.
"There is not enough humanitarian aid for all the people," Hussam Abdulhadi explained. "If people were not hungry, they would not run. People are hungry. They would not do this if they were not hungry."
The footage was released as Iraqi troops backed by the Kurdish peshmerga advance upon Mosul, currently held by IS militants. The siege, which has lasted more than a month, left civilians caught in the deadly crossfire between the extremists and pro-government forces. Over a million people still live in the city, many of whom have attempted to flee. IS has been accused of using the civilian population as human shields, and the UK-based organization Airwars says up to 127 civilians have been killed by airstrikes from the US-led coalition over the last month.
You can share this story on social media: