Snowden can testify in Berlin, govt must provide 'effective protection' – court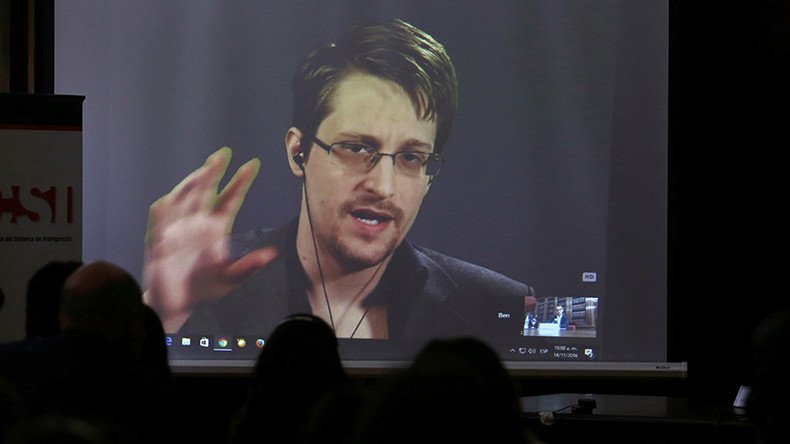 A top German appeals court has ruled that the government must "establish preconditions" for US whistleblower Edward Snowden to come to Berlin, in order for him to testify before a parliamentary committee investigating NSA surveillance in Germany.
The Federal Court of Justice (BGH) ruling, made on November 11 but only announced on Monday, came after the Greens and the Left Party requested that the former National Security Agency (NSA) contractor be questioned by German MPs. Snowden is wanted by the US on espionage charges.
So far, the federal government has blocked calls by the opposition to bring Snowden to Berlin, saying it cannot guarantee his safety, the Süddeutsche Zeitung newspaper reported.
The chances of bringing Snowden to Berlin as a witness, so that he can detail what he knows about the NSA in Germany, have now increased, the newspaper reported.
The Federal Court of Justice has ruled that the government needs, among other formalities, to provide "effective protection" for the witness and "immediately establish the preconditions for interrogation of the witness in Germany."
The government must inform the parliamentary committee "at what time it can establish the abovementioned conditions."
The committee is now required to make an official request to bring Snowden in from Russia.
According to Die Zeit, Snowden is "probably the most important witness of the committee." The 33-year-old former intelligence analyst allegedly agreed to testify only if he is allowed to come to Berlin, telling his lawyer he was afraid he wouldn't be able to return to his exile in Moscow once he had left.
The German government meanwhile fears it will have to grant Snowden asylum once he enters the country, triggering diplomatic problems with Washington, Die Zeit reported.
The Russian capital has been home for Snowden since June 2013, when he was granted temporary political asylum after leaking national security documents detailing America's vast surveillance apparatus and intelligence techniques. His US passport was revoked, leaving him the bearer of only a Russian passport, which he was issued with after Moscow granted him asylum. Snowden is unable to travel due to security fears.
When asked if he would pardon the whistleblower, President Barack Obama told Der Spiegel during his visit to Berlin last week that he cannot "pardon somebody who hasn't gone before a court and presented themselves, so that's not something that I would comment on at this point."
"I think that Mr. Snowden raised some legitimate concerns. How he did it was something that did not follow the procedures and practices of our intelligence community," Obama added.
"If everybody took the approach that I make my own decisions about these issues, then it would be very hard to have an organized government or any kind of national security system," Obama said.
Last month Germany's highest court rejected a bid by opposition parties to force the government to reveal the spy targets they had reportedly jointly worked on with the NSA.
The NSA spied on German chancellors and their offices for over a decade, a WikiLeaks report revealed last year. Leaked NSA intercepts indicated that the US tapped the phones of the political offices of the last three German chancellors – Angela Merkel, Gerhard Schröder and Helmut Kohl, and targeted at least 125 phone numbers of top German officials.
The Constitutional Court's ruling said the US was against sharing the sensitive spy target list, and doing so without US permission would hamper German intelligence agencies' ability to cooperate with counterparts in the future, Reuters reported.
You can share this story on social media: