Sarkozy eliminated in 1st round of French center-right presidential primaries – provisional results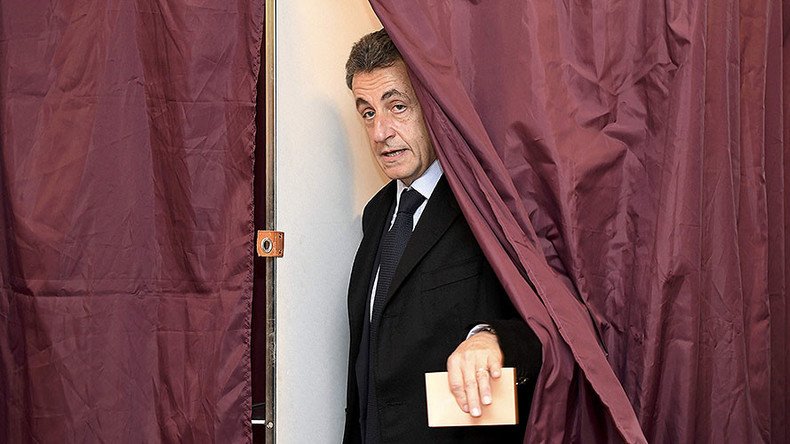 According to partial results, former Prime Ministers Alain Juppe and Francois Fillon will contest the second round of the French Republican primaries following a well-attended national vote, while ex-President Nicolas Sarkozy has been eliminated.
Provisional results from 9,551 polling stations out of 10,229 showed Fillon with 44.1 percent of the votes, Juppe on 28.6, and Sarkozy on 20.6. None of the other four candidates scored in double digits.
"I was not able to convince the voters... but I respect the result," stated Sarkozy in his concession statement, adding that he will vote for Fillon in the run-off.
A candidate needs a simple majority for selection, so a second round of the primary contest will now take place on November 27.
AFP estimated a stunning 4.3 million turnout for the vote, compared to 2.7 million who turned up to select Francois Hollande in the Socialist primaries four years ago, before he went on to defeat Sarkozy.
To participate this Sunday, electors simply had to pay €2 and sign a document saying that they agree with the values of Les Republicains, leading to suggestions that left-wing voters may have infiltrated the primaries, to keep Sarkozy out of next year's presidential election.
Whoever is chosen next Sunday will face National Front (FN) leader Marie Le Pen and a Socialist candidate. Polls in the build-up to the primaries showed Le Pen ahead in the first round of next year's vote, with any Republican candidate also making it to the run-off. As Socialists usually vote against FN in the second round of presidential elections, Juppe or Fillon will now, according to the polls, become the frontrunner to occupy the Elysee Palace for the next five-year term.
Juppe was a widely-disliked prime minister in Jacques Chirac's government from 1995 to 1997, but has since reinvented himself as a popular and competent mayor of Bordeaux. The 71-year-old, who has led the primary polls for months, has preached unity in the wake of the traumatic terrorist attacks, economic stagnation and high unemployment.
In contrast, Sarkozy, who has been accused of receiving illegal campaign funding and attempting to curry favor with a judge, has moved towards many of Le Pen's – and Donald Trump's – talking points. The 61-year-old has spoken out against Islam, and embraced protectionist policies.
READ MORE: Europe could die, French PM Manuel Valls warns in Berlin
62-year-old Fillon has banked on a program of economic reform – getting rid of France's vaunted 35-hour week, upping the retirement age, and cutting public spending, in a bid to kickstart economic growth. Despite serving as Sarkozy's Prime Minister between 2007 and 2012, before the two men fell out, Fillon was something of a dark horse, who has surged thanks to a series of impressive performances in televised debates.
You can share this story on social media: