Over 100 people dead, scores injured as train derails in India (PHOTOS)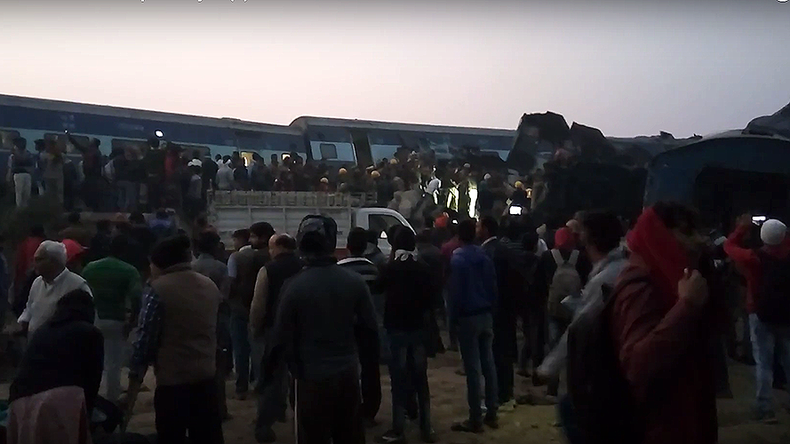 Over 100 people were killed and scores injured in northern India when 14 cars of an express train derailed near the town of Pukhrayan in Uttar Pradesh, AFP reported, citing police. Relief teams have rushed to the scene.
The police said that people were still missing, as survivors made their way into damaged carriages to look for their relatives and belongings, Reuters reported.

Senior Indian railway official, Pratap Rai, said that rescue operations were under way at the crash site.
"We are using every tactic to save lives but it's very difficult to cut the metal carriages," Rai said.

With the death toll still expected to rise, all the hospitals in the area have been mobilized to receive the injured.
The accident happened some 100 kilometers from the city of Kanpur, the second-largest industrial city in India, at about 3:00am local time, when most of the 500 passengers were asleep.

"We woke up to a great thud this morning. It was pitch dark and the noise was deafening," one passenger said, as cited by AFP.
Another survivor told Reuters: "suddenly I could feel that the carriage was overturning. I immediately held the metal rod near the bathroom door."
"I can see bodies lying near the tracks, everyone is in a state of shock. There is no water or food for us," another passenger added.
It is still not clear what caused the derailment, but the authorities said they would check the condition of the tracks before drawing any conclusions.
Indian Minister for Railways Suresh Prabhu ordered that an inquiry be "immediately" opened into the circumstances of the derailment.
"The strictest possible action will be taken against those who could be responsible for the accident," he wrote on Twitter, adding that "all possible mobilization relief" has been initiated.
Indian Prime Minister Narendra Modi expressed his condolences to the victims of the crash, adding that the minister for railways has been put in charge of overseeing the situation.
Along with ambulances, buses have been sent to the site of the crash to help those left unharmed by the catastrophe, but who were stranded and unable to continue their journeys, said Vijay Kumar, a spokesman for Northern Central Railways, Punjab Update reported
The Pukhrayan derailment is the worst rail accident in India since 2005, when 100 people lost their lives when a train was crushed by the rocks, while in separate incident another 100 were killed when a train plunged into a river.
India's railway system is the fourth largest in world. The federal government runs 11,000 trains a day, ferrying more than 20 million people. However, the tracks and trains remain in poor condition and thousands die in accidents every year.