US & Ukraine vote against anti-Nazi glorification resolution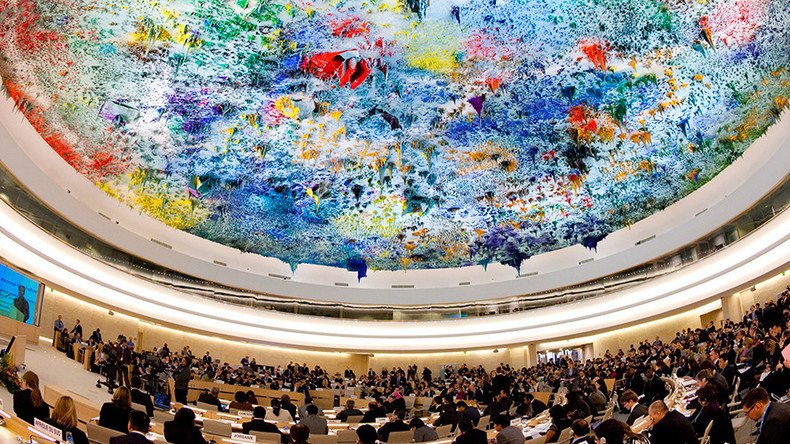 Ukraine, United States, and the Pacific island of Palau were the only three UN members to reject a Russian-authored resolution against rehabilitating and promoting Nazi beliefs.
The resolution to "Combat glorification of Nazism, Neo-Nazism and other practices that contribute to fueling contemporary forms of racism, racial discrimination, xenophobia and related intolerance," which has been submitted by Russia annually since 2006, was approved by the UN human rights committee with 131 members voting for, 3 against, and 48, mostly European nations, abstaining.
Washington and Kiev have been resolute opponents of the resolution, which is symbolic and has no legal power, over the years.
"We condemn without reservation all forms of religious and ethnic intolerance or hatred at home and around the world," said Deputy U.S. Representative Stefanie Amadeo. "However, due to this resolution's overly narrow scope and politicized nature, and because it calls for unacceptable limits on the fundamental freedom of expression, the United States cannot support it."
"This resolution's recommendations to limit freedom of expression, freedom of association, and the right to peaceful assembly contravene the principles enshrined in the Universal Declaration of Human Rights and must be opposed."
In past years both states have also accused Moscow of using alleged Nazism to condemn post-Soviet countries, shut down historical debate about the events of World War II, and even to potentially justify foreign invasions.
The Russian Foreign Ministry said it was "disappointed" by the lack of unanimity in support of the resolution, and "unconvinced" by the free speech explanation.
"The destructive stance of the US and Ukraine on this resolution, unfortunately, came as no surprise," State Duma International Affairs Committee member Sergei Zheleznyak told the media in Moscow in the aftermath of the vote. "Kiev made radical nationalism its state ideology glorifying the participants in the punitive operations responsible for the deaths of thousands of citizens of Ukraine, Russia, Poland and other countries during WWII… "continues to support the criminal regime in Kiev and invent accusations against Russia."
The ranks of supporters and opponents of the resolution is a mirror image of the Ukraine-sponsored document passed two days earlier by the same committee, which accused Russia of occupying Crimea and human rights abuses. Following its adoption, Russia accused Ukraine of "politicizing human rights."
Both resolutions will be presented to the UN General Assembly next month.
You can share this story on social media: