'Complete success': Shenzhou 11 returns Chinese duo to Earth after longest space mission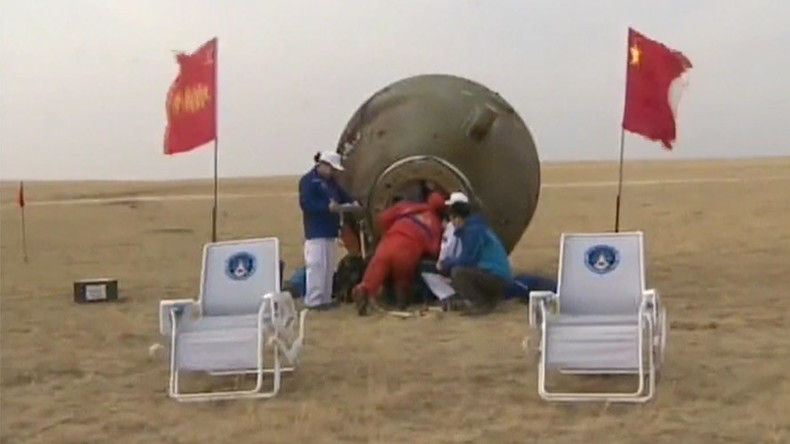 The Shenzhou 11 spacecraft has landed safely in China's northern region of Inner Mongolia with two taikonauts aboard, ending their 30-day mission at the country's Tiangong 2 space laboratory.
The Shenzhou-11's reentry module carried the two taikonauts – Jing Haipeng, the mission commander, and Chen Dong – to safety in Inner Mongolia, touching down at around 1:59pm Beijing time on Friday, according to Xinhua state news agency.
A search and rescue party reached the landing site quickly, but the taikonauts were able to open the capsule hatch by themselves without problem.
Zhang Youxia, commander-in-chief of China's manned space program, told the news agency that the Shenzhou 11 mission had been a "complete success." Jing and Chen spent 30 days on board the Tiangong 2 space laboratory, or Heavenly Palace 2, which is a key part of China's ambitious space program that ultimately aims to launch a Chinese space station into orbit.
The 30 days spent on the Shenzhou 11 mission was the Chinese astronauts' longest stay in space to date. They lifted off from the Jiuquan Satellite Launch Center in the Gobi Desert in mid-October atop the Long March-2F carrier rocket.
During the flight, the space duo's checked the docking procedures at Tiangong 2, conducted in-flight experiments, and carried out orbital repairs.
It was the third space mission for 50-year-old Jing, who also participated in the Shenzhou-7 and Shenzhou-9 missions, and the first mission for 38-year-old Chen. Tiangong 2 is to remain in orbit, as Tianzhou 1, China's first cargo spacecraft, is expected to be launched by April of 2017 to test refueling procedures.
China sends 2 taikonauts to space for 30-day orbital lab mission

China is planning to launch a permanent 20-ton modular space station before 2022, which is expected to consist of three segments, namely two labs attached to a core module.
China is also actively planning to send a robotic probe to Mars and the Chang'e-5 probe to the moon in the second half of 2017. The lunar mission would make China only the second country to ever visit the lunar surface.