Lavrov: Russian jets striking Idlib & Homs to prevent ISIS exodus from Mosul to Syria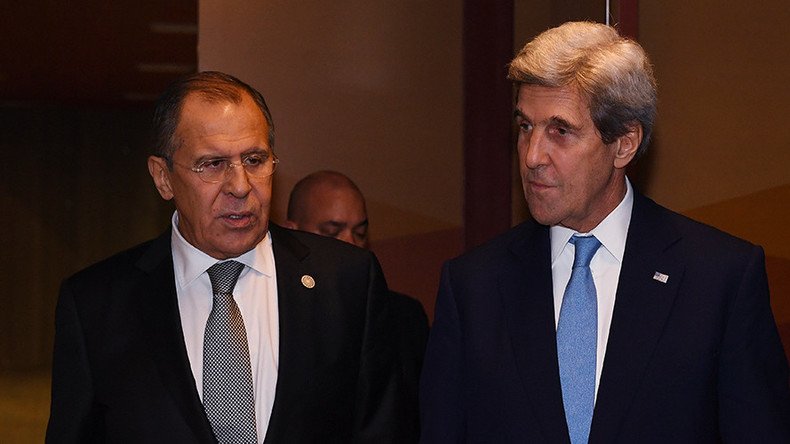 Russian bombers are striking terrorist targets in Syria's Idlib and Homs provinces so that Islamic State militants retreating from Iraq's Mosul do not cross into Syria, Foreign Minister Sergey Lavrov said after "constructive" talks with his US counterpart, John Kerry.
"Our aviation and the aviation of Syria work only in the provinces of Idlib and Homs in order to prevent the IS from crossing into Syria from Mosul," Lavrov explained after meeting Secretary of State Kerry on the sidelines of the Asia-Pacific Economic Cooperation (APEC) Economic Leaders week in Peru's Lima.

While both diplomats regarded the talks, which touched on Syria, Yemen and Ukraine, as "productive" and "constructive," Lavrov also alluded to the allegations made by US State Department that Russian jets were behind the reported bombings of 5 hospitals in Aleppo and Idlib. The Russian Defense Ministry repeatedly said that Russian jets have not been flying sorties in Aleppo during the last 30 days, while targets in Idlib and Homs, said to be terrorist arms factories and warehouses, are carefully selected.
Lavrov also commented on the incident at Wednesday's State Department briefing, in which spokesman John Kirby dismissed RT's Gayane Chichakyan request to provide details on the allegedly bombed hospitals on the grounds that RT was a "state-owned outlet," saying it was "unacceptable." However, Lavrov said he did not want to discuss the conduct of Kirby, who was not in Lima.
"We believe it is unacceptable, not reflecting the American proclaimed values and I hope that this was not the position of the State Department and this is certainly not the position of the Secretary of State ... We are not going to start every day by condemning Mr. John Kirby but I believe he must be disciplined by his own superiors for what he is doing and how he is doing his job," Lavrov said.
For his part, Kerry said special attention was paid during the meeting to the situation in Aleppo, saying that he "discussed every aspect of Aleppo" with his Russian counterpart.

"We had a constructive, important conversation about a number of topics ranging from Yemen to Libya and to Syria, obviously, as well as Ukraine and bilateral concerns. So we had a very broad discussion," Kerry told journalists after the talks.
'Russia-US relations can't continue along negative path'
The Lima talks were also the first meeting of Lavrov and Kerry since Donald Trump won the US presidential elections.

Ahead of the meeting, Lavrov said US-Russia relations can no longer continue to follow a negative trajectory. He criticized the farewell message by the outgoing US President Barack Obama in which he cautioned his successor Trump to not engage in "realpolitik" with Russia and "stand up" to Moscow.
In an interview to the Rossiya 24 TV channel, the minister argued that such advice from a leader whose term ends in two months lays a negative foundation for future relations between the countries, adding that he believes "ensuring continuity on a negative basis will not work."

"If you are ending your term as president, it is probably better to respond to some questions and give some advice in relation to positive matters, such as in what concerns the resolution of America's internal problems, there are a lot of those, and in what concerns the development of external ties," the minister said.
While Obama had called on President-elect Donald Trump to draw a line between the heated rhetoric of the election campaign and practical work at the helm of the American state, he himself seems not to follow the advice while taking on Russia, Lavrov argues.

"I have a feeling that Obama himself is on the emotional side of the situation, and thinks less and less about how to solve real problems," the top Russian diplomat said.
READ MORE: Le Pen says her joining forces with Putin & Trump as France's leader would be 'good for world peace'
Lavrov also expressed hope that "common sense prevails" in the end, adding in determining the future course of US-Russia relations "the ball is on the side of Donald Trump," who assumes office on January 20.
You can share this story on social media: