Trump-led US could become Syria's 'natural ally' if it fights terrorism – Assad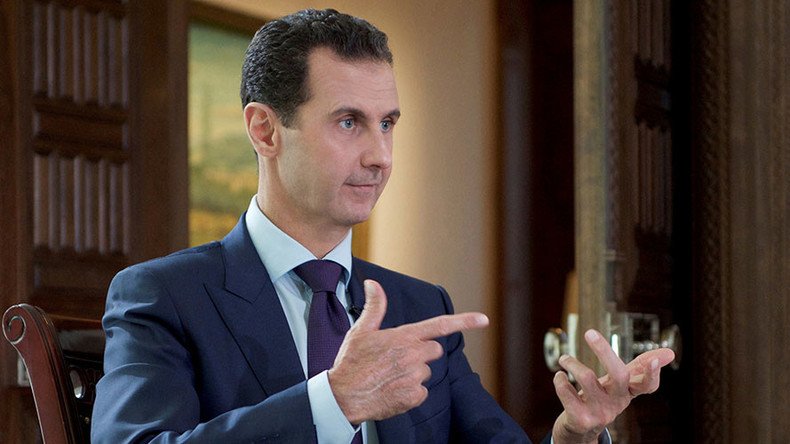 Syrian President Bashar Assad said that while it's hard to say if US President-elect Donald Trump will stick to his promises after moving into the White House, the US may become Syria's "natural ally" if it starts fighting terrorists instead of shielding them.
Assad told Portuguese RTP TV channel in an interview to on Tuesday that he did not harbor high expectations on a U-turn in American approach to Syria after change of American administration in January. The Syrian leader believes Trump will find it hard to implement the idea of closer cooperation with Syria on fighting terrorism, saying that the future president, as any other American leader, will have little room for decision-making being under pressure of different lobby groups.
"That's why for us it's still dubious whether he can do or live up to his promises or not. That's why we are very cautious in judging him," Assad said, reminding that it is especially hard to anticipate Trump's policies as he had not been a politician.
At the same time, in case the new American government is "genuine" about tackling the common threat of terrorism and would "have the ability" to do that, Syria will be among "the first ones" to consider joining forces with Washington, Assad said, adding that if "he [Trump] is going to fight the terrorists, of course we are going to be ally, natural ally in that regard with the Russian, with the Iranian, with many other countries who wanted to defeat the terrorists."
Commenting on the US Vice President-elect Mike Pence's words, who seemingly took a harsher stance on Syria by saying back in October, that US "should be prepared to use military force" against Syrian army to prevent humanitarian catastrophe in Aleppo, Assad criticized the Washington's self-assumed role of "police of the world" and "judge of the world."
READ MORE: Trump right on Russia, Britain must listen – ex-UK ambassador to Moscow
"They are sovereign country, they are an independent country, but this is their limit; they don't have to interfere in any other country," Assad noted, arguing that freedom and democracy cannot be imposed from abroad as a prerogative of the Syrian people to shape their democracy.
"You cannot bring it, you cannot import it. You cannot import anything from outside your country regarding the future of your country," Assad stressed.
Speaking of Syria's road to democracy, Assad said, that while he could not call Syria a democracy right now the country was "moving forward in that regard," adding that it should not be measured by Western criteria.
"West has its own culture, we have our own culture, they have their own reality, we have our own reality. So, our democracy should reflect our culture and our habits and our customs and our reality at the same time."
'Russians fighting for Syria, for the world, for their own national interests' - Assad
The Syrian President has praised the help of Syria's main allies in the region, Iran and Hezbollah, as well as that of Russia, in what he called an "international war against Syria."
Assad argued that terrorists inside the country have been backed by "tens of foreign countries." Asked if he regards Russian President Vladimir Putin as his main ally, Assad refused to single out any of his allies as the most important.
Assad also dismissed speculation surrounding Russia's role in Syria, rejecting the assumption that Moscow uses Syria to serve its own political interests thus making it to surrender sovereignty in return for the help in the battle against jihadists.
"Russians always base their policies on values, and these values are the sovereignty of other countries, international law, respecting other people, other cultures, so they don't interfere in whatever is related to the future of Syria or the Syrian people," Assad said, adding that Syria has been "not partially, but fully free" to determine its own future.
Moreover, Russia is defending own interests by fighting terrorists in Syria and helping uphold international law, which is something Western powers should also realize and acknowledge, Assad said.
"The Russians are fighting for us, for the world, and for their self," he said.
While the involvement of Russia, Iran and Hezbollah in the Syrian conflict has been greenlighted by the Syrian government, which had sought their help, the Western powers' intervention was uncalled for and only complicated the problem, Assad said.
"That's why I always say the Syrian problem as isolated case, as Syrian case, is not very complicated. What makes it complicated is the interference from the outside, especially the Western interference," he said, expressing hopes that new UN Secretary General Antonio Guterres would succeed in mediating between all the parities of the multidimensional conflict.
Assad pointed out that some of these state actors, such as "Turkey, Qatar, Saudi Arabia and some Western countries including the United States" still land their support to terrorists. He added that despite the hardships of people and daily destruction, there is "only option that we have in that regard [which] is to win."
Meanwhile, US legislators aim to put additional pressure on Assad with a new bill targeting the Syrian government and "all those responsible for the atrocities against the people of Syria," with new sanctions, Congressman Adam Kinzinger tweeted.
The bill called the Caesar Syria Civilian Protection Act envisages sanctions on Syrian Central Bank and Syrian oil industry as well as on those who participate in business projects involving Syrian intelligence or army agencies. The legislation still needs to be approved by the Senate and President Barack Obama.
You can share this story on social media: